Public domain
One free bird.
"Free Bird!"
Throughout dingy rock clubs and posh resort venues, whenever you combine alcohol, a self-impressed white guy and live music, a cry for what has become the bane of many musicians' existence is imminent. Interestingly, how these unfortunate occurrences resolve themselves is generally more entertaining than the cry for Lynyrd Skynyrd's southern serenade. That being the case, a solid response should be on any band's to-do list: 1) Come up with a name 2) Come up with some songs 3) Book some shows 4) Figure out what awesome response you're going to have when someone inevitably hurls the challenge at you.
In honor of Father's Day – because dad's love Skynyrd and are commonly the main "Free Bird" offenders – we have compiled a list of some of the best responses to the customary clamor for the ballad. From the eternally-cool Dylan to the witty archetype of the flannel literati Isaac Brock, behold these lessons in reproach (and the rare endorsement).
Unfortunately we don't get to hear the initial call for "Free Bird" but we are treated to the last 45 seconds in what is a first for Dylan – proving that the old curmudgeon still has some humor left in him.
Brock's iconic snark is on full display in his rebuke of this overzealous fan. His response says it all, just listen.
On the other hand, fellow indie cornerstones Built to Spill, being the guitar-driven eight-minute sonic excursionists that they are, were more than happy to unleash the "Free Bird" on an unsuspecting Atlanta crowd in '01.
One visit to YouTube will clue you in to Slayer's proclivity for soundchecking with the juggernaut of a tune. In this particular case, fellow Bay Area thrasher and Testament guitarist Alec Skolnick steps in for Kerry King (if only). Keep in mind, before you get all up in arms about the shittiness of the cover – this is a rather rough rendition – it's a fucking soundcheck, nerd, cool your jets.
Apparently indie audiences have quite the affinity for shouting "Free bird!" at their pale, waify idols. But Bright Eyes singer Conor Oberst was prepared when one fan shouted it at the male equivalent of alterna-goddess Zooey Deschanel.
Here's to the solo cover artists! That guy or girl in the corner who puts up with the drunken rabble all night long, armed with only a guitar and a zest for that "big break." This unknown performer is more than happy (and capable) to oblige the single free bird-er in the audience, and in fine form.
Although many singers have go-to responses for the occasional heckle via "Free Bird" request, few have written an entire song lambasting the goofs that shout it out. However, cello and guitar duo, The Doubleclicks have done just that ... and it's awesome.
"It's the first thing that comes into everyone's mind, unless they have something to say / No one is laughing except in disgust and the band wants you to go away."
Sometimes in the name of comedy a band (or loose affiliation of comedians, musicians, actors and their pregnant wives) gets together to pay homage to a fellow artist. In this case, Will Ferrell, ZZ Top's Billy Gibbons and the Max Weinberg Seven play "Free Bird" on the last episode of
The Tonight Show with Conan O'Brien
. It sounds and looks like shit, but you get the idea.
When someone shouted the infamous song title at ivory-tickler and songwriter extraordinaire Ben Folds, he wasted no time rolling right into the number and, although he doesn't know any of the words, tear the piano to pieces.
Few hate the human race more than late comedian Bill Hicks and when a "useless waste of fucking flesh that has ruined everything good in this goddamn world" deigns it appropriate to interrupt the him during his set with "Free Bird" ... well, let's just say Hicks goes off hard. Hitler Hard.
In music journalism there are certain sentences that you know will draw negative feedback, this will most likely be one of them: The Civil Wars' John Paul White – who is the poor man's Jack White, who is the poor man's rock star and a slightly more rock 'n' roll Dave Grohl, who is the poor man's version of Kurt Cobain crossed with the worst things about Cheap Trick – recently went into a couple verses of "Free Bird" during a Civil Wars set in Boulder, Colorado. The devoted crowd never asked for it, but sure seem pleased to hear it.
Another entry into the catalog of un-asked for "Free Bird" renditions is this one by Nashville's latest saving grace, Chris Stapleton. The raspy, soulful voice of the country crooner is the perfect vehicle for the tune.
When someone yells free bird at Christian rock band Switchfoot, the singer, being in a Christian rock band, goes into "Sweet Home Alabama," forever proving that real rock 'n' roll truly belongs to the Devil.
The a cappella group that went viral, Straight No Chaser, handles their free bird-er aptly and comically. By responding with a simple "Security."
What better way to wrap up a playlist for dad than with some Nirvana – because they were popular when most people having children now were kids themselves. Blow your mind on that shit! Kurt handles his "Free Bird!" in typically cool Kurt fashion, and one of the Meat Puppets, sitting in for what would end up being an outtake on the
MTV Unplugged
album, flips the audience member the bird, commenting, "I've got your free bird right here." Have a nice weekend, dads.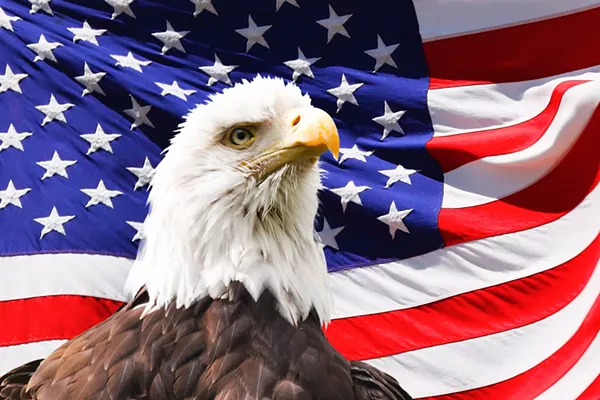 Public domain
"Caahh!" is Eagle for "free bird."