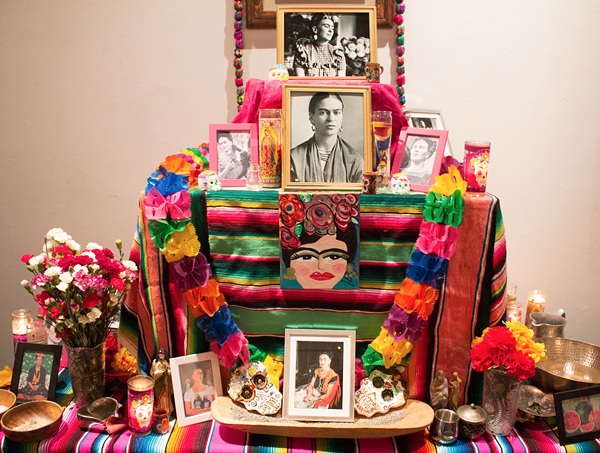 Whether you file it under respectful tribute or shameless cultural appropriation (or maybe somewhere in between), there's no denying that celebrated Mexican painter Frida Kahlo (1907-1954) has become a global icon — one that transcends the realm of fine art and crosses into a murky commercial territory distinguished by mugs, mouse pads, pillows, purses, iPhone cases and boxer shorts.
In a 1996 story titled "The Cult of Kahlo," The Washington Post suggested Kahlo's visual (and commercial) presence in Mexico is only rivaled by "the revered Virgin of Guadalupe." Given that Kahlo drew great inspiration from Marxist ideology and considered capitalism among "the whole gamut of bourgeois tricks," it's only natural to picture the tortured artist spinning in her final resting place (a pre-Columbian urn at La Casa Azul). But that won't stop Fridamania. Not even Kahlo's family could block Mattel from releasing a Frida-inspired Barbie doll (infamously sans unibrow) earlier this year as part of its Inspiring Women series. (It's currently out of stock.)
Launched in 2016 with great success, San Antonio's own Frida Fest has worked to address similar concerns, cooperating with the Kahlo family last year to vet applicants and encourage participating artists to dig deeper into her life, create original work and, in the words of festival organizer Fred-Anthony Garza, "avoid the kind of cheap knock-offs of her work that have become so common." Presented by Artsy Fartsy Painting Parties, Que Retro Arts and Curious Twins Paranormal, Frida Fest returns to Wonderland of the Americas this weekend with a third-annual event promising an abundance of artisan vendors, fashions by local designer Gennifer Erika Velasquez, a digital photo gallery, performances by Grupo Folklórico de Bendiciones and Las Monas, and, inevitably a few Frida lookalikes dolled up in revolutionary frocks, unibrows and flower crowns.
Free, noon-6pm Sat July 14-Sun July 15, Wonderland of the Americas, 4522 Fredericksburg Road, (210) 785-3500, wonderlandamericas.com.

Get our top picks for the best events in San Antonio every Thursday morning. Sign up for our Events Newsletter.