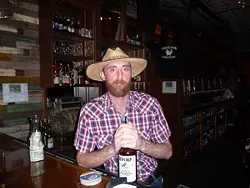 Bartender Chris Hooker at the Phoenix Saloon
Release Date:
2010-03-17
Revitalization" is a word you'll likely hear if you spend any time in downtown New Braunfels these days. Thanks in part to a local chapter of the Texas Main Street program, which is part of the Texas Historical Commission, new businesses in the area are returning to the way they originally looked.
One glistening example of this reverse makeover is Mc Adoo's Seafood Company, an upscale restaurant operated out of the city's first federal post office, which dates to 1915. High ceilings, dark wood trim, and original design elements evoke a few words that don't usually come to mind when looking at a refurbished building: "stately" and "authentic." Before reopening as Mc Adoo's, the building was closed to the public for 25 years.
In another nod to the past, a nearby building dating to 1871 has been completely overhauled, and recently reopened as the Phoenix Saloon, something it hadn't been called since 1918. Purchased by former Time Out London Music Editor Ross Fortune, the Phoenix Saloon can best be described as "storied."
Vibe
Highly authentic countrified
melting pot with the unusual suspects
and 15 beers on tap. Musical
tendencies: outlaw country, rock,
blues, folk, honky-tonk, punk, funk,
jazz, gospel, soul, reggae, and
Tex-Mex.
Best Use
In response to Austin's
"corporatized, sanitized, celebrified,
and shittified" SXSW, the
Phoenix Saloon will host a 12-hour
blast of free, live, local music on
Saturday, March 20. The name?
South by So What. For details, visit
thephoenixsaloon.com
Prices
Wells: $3 / Domestic
bottles: $1.50-$2.50; domestic
pints: $2.50-$3.50 / Import
bottles: $3.50-$4; import pints:
$4.50-$5.50
According to the captivating media alert Fortune sent out, the Phoenix Saloon was the first bar in Texas to serve women (a system of dangling "service" bells in the outdoor beer garden spared the gals' reputations), had the first desegregated water fountain in town (after it became a department store), is haunted by the ghost of John Sippel (the building's first owner, who committed suicide on the second floor in 1900), is possibly the birthplace of chili powder, brewed and distributed beer through a system of underground tunnels during Prohibition, had an alligator pit (which is now a Chase Bank), a deer pen, badger fights, and a pet parrot that asked customers, "Have you paid your bill?" in German. All true? One can only hope.
Fortune originally planned to open a live-music venue in Austin. When I asked him about his decision to settle in New Braunfels, he explained that nothing in Austin jumped out at him. "It's like buying a house — you know when it's right." On a whim, Fortune's realtor, Debbie Smith — who is now his girlfriend — showed him a historic building in downtown New Braunfels. After getting what he described as a "punched-in-the-gut feeling," Fortune bought the property.
Fortune and Smith spent the next two years restoring the Phoenix. "We ripped an inch-and-a half of plaster off that wall to expose the original bricks from 1871," he said, with what appeared to be genuine awe. Even without the 139-year-old brick wall, the Phoenix Saloon wins in the authentic department. A jigsaw puzzle of pastel-colored beadboard covers the walls, a buffalo mount stands watch over the crowd, antique mirrors hang under a crystal chandelier, peanut shells crunch beneath your feet, and a vintage water fountain sits at the front door. When I asked about the salvaged wood, Fortune explained, "It's all original. At one point this place was a department store, and the beadboard was part of a mezzanine in the back." When I set my beer down on the 40 foot-long bar, Fortune pointed out that it, too, is made from salvaged wood — cabinetry left behind by "thrifty Germans."
If you're not getting the picture, Fortune and Smith have created an eclectic, forward-thinking music venue that transcends time, place, and genre while staying true to the Saloon's unmistakably Texan history. "A cross between Gruene Hall and (Austin's) Continental Club" is how Fortune described the direction he hopes the Phoenix will fly.
When I asked the couple about the type of crowds they've been getting, Fortune mentioned a recent sold-out concert: "When Billy Joe Shaver played, we definitely had some people driving down from Austin." Given that tickets were $20, and the capacity is 241 including the staff, it's safe to say the word has gotten out. That's not to say that the Phoenix doesn't cater to locals — it's obviously a neighborhood bar, just one you can't quite categorize. I spotted students, bikers, cowboys, and rockabilly types drinking at tables, smoking outside (the entire bar is non-smoking), and listening to music as varied as the crowd. The last historical tidbit Fortune shared with me was a set of mint-green shutters brought to him by a relative of former owner Albert Ludwig. Part of the original structure, the shutters are appropriately hung as swinging saloon doors.
On my way out, I quizzed Fortune about his plans for the bar. First on the list is opening a (nearly finished) basement-level bar selling "only Texas beer." After that, in a move that mirrors the original incarnation, the kitchen will open and the Phoenix Saloon will again be a live-music venue and chili parlor. In another nod to bygone days, Fortune plans to hang hand-painted signs above the doorway thanking supportive local businesses. Who's first on the list? Why, the nearby Snake Farm, of course. They not only showed up to the grand opening, they brought a baby alligator.
— Bryan Rindfuss