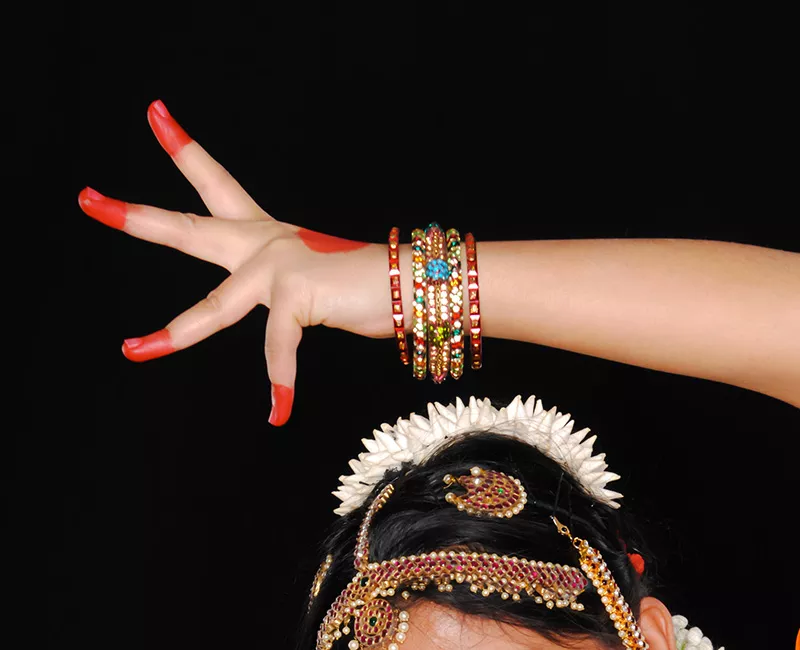 In 1985, Peter Brook mounted a nine-hour stage production of the Mahabharata, the ancient foundational text for the cultures of South Asia that functions as kind of a cross between the Bible and the Odyssey. In 1989, PBS aired an abridgment of Brook's project, clocking in at six hours long.
In conceiving and directing his own adaptation of the 200,000-line Indian epic, Roberto Prestigiacomo wisely limited his ambitions. From The Mahabharata – The Great Dance-Off is, like Six Characters in Search of an Author and A Chorus Line, metatheater; it dramatizes how a talented troupe sets about translating the Sanskrit poem into dance.
Surrounded on three sides by the audience, the dancers, confined to a box-like space within the Tobin Center's Carlos Alvarez Studio Theater, start with warm-ups. A division soon becomes apparent. Some of the dancers favor the classical Bharatanatyam conventions of movement, whereas others prefer a looser contemporary style. Though selected episodes from the Mahabharata — including the extraordinary tale of how the five Pandava brothers are born and the section of the Bhagavad Gita in which Krishna explains enlightenment to Arjuna — are narrated, most of the production is non-verbal, a matter of sight and sound rather than syntax.
The original music — performed and recorded by the SOLI Chamber Ensemble — by Reena Esmail borrows the percussive qualities of traditional Indian ragas, though the inclusion of a clarinet adds an occasional klezmer-like melancholy to the proceedings. Additional music was improvised by violinist Ananda Nadayogi and tabla player Aditya Kalyanpur. But the stars of the production are the dancers, whose exquisite gymnastic movements were choreographed by Kausi Subramaniam and Seme Jatib. The dance sequences — both Bharantanatyam and contemporary — are marvels of athleticism and grace.
After separate rehearsals for the proponents of classical and of contemporary dance, it all culminates in a face-off between the two, a grand terpsichorean battle of the bands. In an extended, bravura sequence, akin to jazz virtuosos alternating riffs, Bharantanatyam and contemporary dancers confront and compete with each other on stage. Call it a draw — both styles win.
From The Mahabharata – The Great Dance-Off
$18-$28, 8pm Thu-Sat, 2:30pm Sun, AtticRep, Carlos Alvarez Studio Theater, Tobin Center for the Performing Arts, 100 Auditorium Circle, (210) 223-8624 atticrep.org
Through June 14