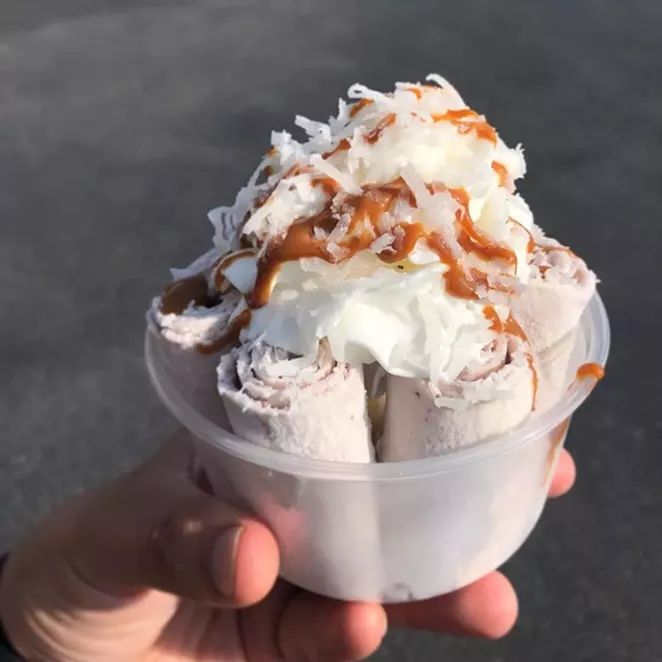 A year ago, San Antonio still hadn't seen the likes of Thai-style rolled ice cream, and now the locals who first offered the treat are expanding.
FruitMix on Bandera is rebranding as
Rolling Rey's Ice Cream
, and as of Monday night, the brand has taken rolled ice cream to the city's South Side. Rolling Rey's at 2230 SE Military Drive, Suite 102 is twice as big as the original and features two more ice cream rolling stations.
Helmed by Manuel Quintana, VP of Operations and Albert Arechiga Jr., President of Marketing, Rolling Rey's will add more flavors and vegan options in the near future, as well as San Antonio-based flavors. Prices will remain the same: $5.99 for a regular and $3.99 for a smaller kid-size serving.
Eventually, Quintana and Arechiga will relocate the Bandera location to the Medical Center area, and a small location is also in the works for Stone Oak. Each will carry a different specialty flavor of the month.
"Each location will have a different flavor profile and we want to be unique in offering that," Quintana said. "We believe San Antonio is ripe for growth with this type of business, especially on the South Side where there's a lot of culturally-diverse people."
Hours for the South Side location will be noon t0 9 p.m. Sunday through Thursday; noon to 10 p.m. Friday and Saturday.
So many restaurants, so little time. Find out the latest San Antonio dining news with our Flavor Friday Newsletter.