Summertime in San Antonio means extra mangonadas. And for sisters Vanessa Huerta and Katya Ruiz, the owners of
Fruteria Las Gueras
, that meant unleashing a new mangonada creation this past Mother's Day.
The Texas Mangonada is 50 ounces of mango sorbet, chamoy, and just about any Mexican candy/snack imaginable including, but not limited to tamarind apples, a fruit kabob, Nerd rope, sour tapes and straws, Pulparindos, a whole dill pickle, Maraschino cherries, Salsaghetti, tamarind sticks, and a cucumber shot filled with chamoy and Japanese nuts and and paper umbrellas to boot.
Huerta and Vara have owned Las Gueras, a St. Mary's University favorite with their fruit cups, mangonadas and sprawling patio, for the last 16 years and credit always spoiling to their customers and customizing their orders for the inspiration.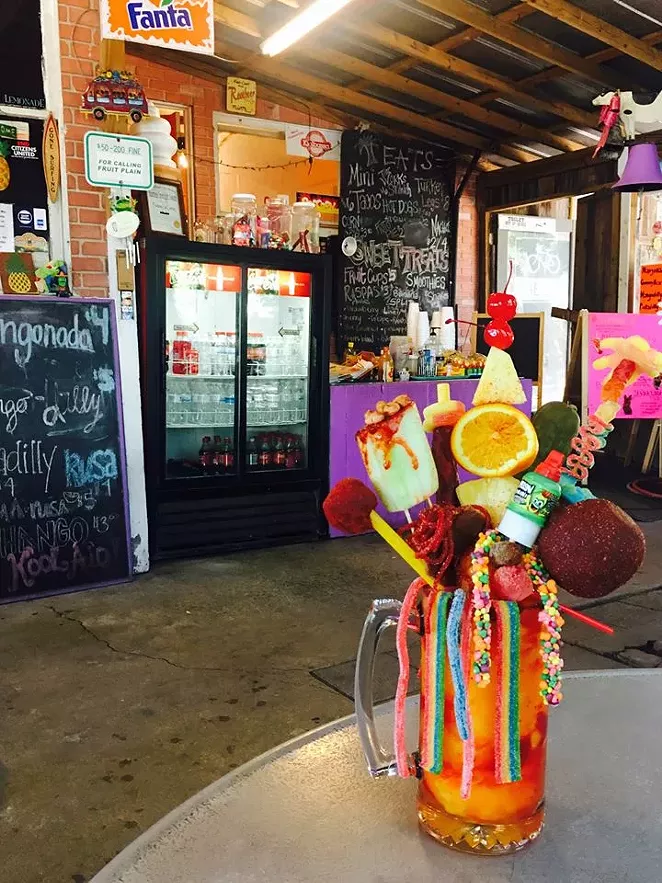 Courtesy of Fruteria Las Gueras
"We give them options, and people always want something different: gummy bears, pickles, fruit," Huerta said. "So we decided to to a Texas-sized version with everything, all in one cup."
The vessel started off as a beer mug, but can also be traded for a mini pitcher of insulated Igloo mug. The sisters recommend sharing it between two and four people, so really the $18 price tag is downright reasonable.
"It ends up being a dining experience. It's served family-style, so we tell people to bring friends," Huerta said.
The sisters have been making approximately 50 Texas Mangonadas on Saturday and Sunday and 30 or so on week days, with customers still customizing the concoction.
"We're receptive to it. We welcome people to ask for stuff and change it up," Huerta said.
Fruteria Las Gueras is open daily from 10 a.m. to 10 p.m. (or later).

2200 Bandera Road, (210) 544-8176.