In the shadow of its monster-sized, corporate older brother Austin City Limits Festival, Fun Fun Fun Fest has played the role of rebellious upstart punk perfectly. Now in its sixth year, FFF has grown too large for its old digs at Waterloo Park and moved to the more spacious Auditorium Shores, overlooking the downtown Austin skyline. But even with more bands, bigger names, and a more upscale location, FFF stays true to its underdog beginnings. Stages are still double-sized to effectively kill wait times — while one band is performing, the next band sets up. While this is welcome, it also shortens soundcheck time, and sound/technical issues plagued bands left and right. While drink prices are festival-overpriced, you can get a "Roundhouse" — a shot of whiskey and a Heineken — for 10 bucks. (Yeah, I know that sounds expensive, but it's a bargain when a single vodka-Red Bull is $9.) But an Austin music fest wouldn't be complete without enough dust to choke a hipster. The foot traffic wasn't been kind to the dirt ground at Auditorium Shores, and it affected at least one performance on Day One.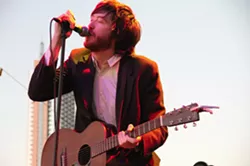 OKKERVIL RIVER
Austin band Okkervil River is known for some loose, exciting shows, but Friday's set was a little too loose. Frontman Will Scheff admitted to losing his voice, and that the dust wasn't helping him stay on pitch. But that didn't stop him from going balls-out crazy during songs like "The Valley" and "Unless it's Kicks." Among the many mishaps: Scheff slipped and fell on stage while yelling at the sound guy; later, he wrapped himself in his mic cord, disconnecting it; later still, he did it again.
But despite this, the band's new lineup sounded impeccable, spurred on by badass new drummer Cully Symington and guitarist Lauren Gurgiolo's inspired shredding. Even though this was not OR's finest hour, their creativity as songwriters, chemistry as a band, and unbridled enthusiasm (even if it gets a little too unbridled) keeps me coming back to their live shows.
PASSION PIT
Disclaimer: Not a huge Passion Pit fan. I got turned away from the Public Enemy photo pit (I like to think it was because I was too "street," not because they got full too quickly) and ran over just in time to shoot PP. (Note to FFF: The blue stage, while usually big enough for the niche DJ/hip-hop/electronic/whatever act, was too small for Public Enemy. Just saying.) Passion Pit, led by shrill, yelpy frontman Michael Angelakos, isn't a very inventive, original, or particularly creative band, but they were more than adequate dance-party music and successfully whipped the crowd (and the dust) into a frenzy.
Coming soon: Recaps of FFF Days 2 and 3!
Day One Ryan Gosling Sightings:
0