Fun Things to Do in San Antonio This Week (1/24/18-1/30/18)
From a legendary rap act and the Youth Orchestra of San Antonio to the Spurs game and a quirky ballet performance, here's how to keep with the Current this week.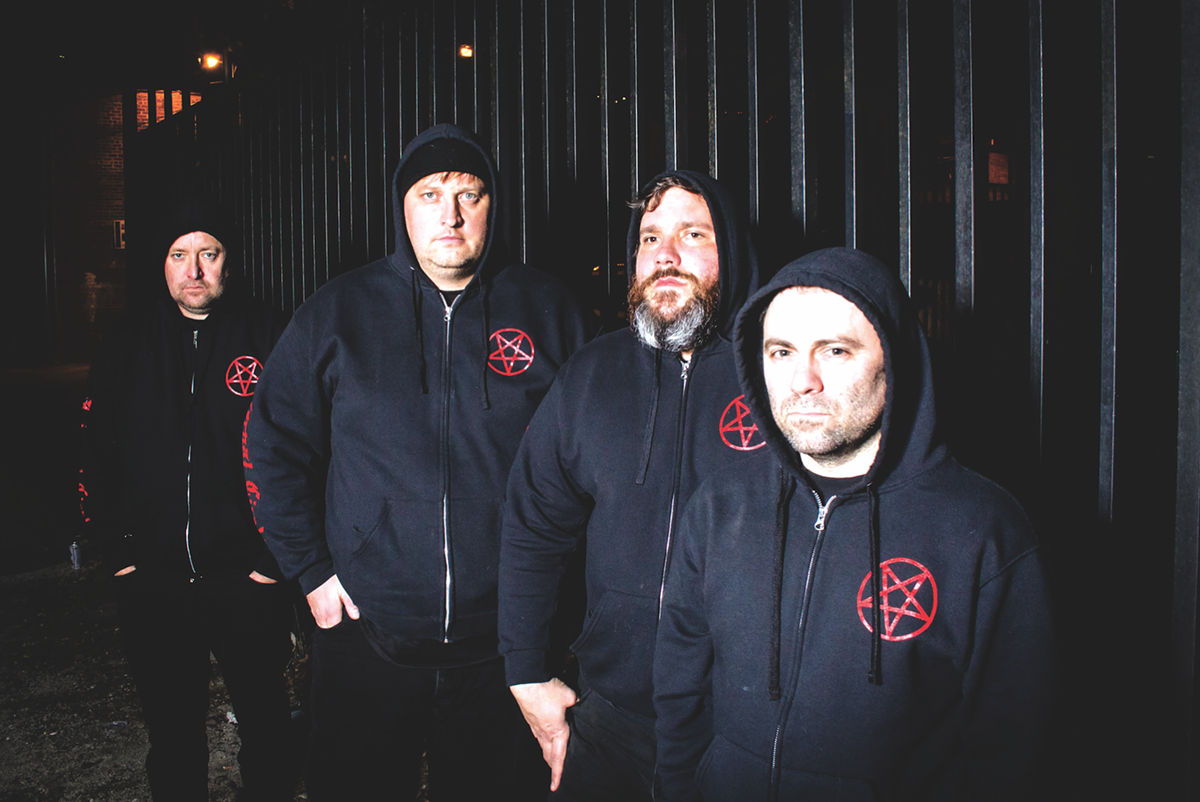 Marc Gärtner
Wed 1/24
The Lillingtons
Often drawing comparisons to the Ramones, especially on their earlier work, Wyoming-based punk band The Lillingtons are sort of that perfect blend of punk and pop rock that could appeal to the masses. But it feels weird calling them pop-punk. This isn't Blink-182 or Sum 41 (not that there's anything wrong with liking those bands). These dudes just happen to utilize catchy-ass melodies and verse/chorus pop-song structures that, after a listen or two, anyone would be able to sing along to. Poppy or not, The Lillingtons write some good punk rock and we're stoked for them to be headed to town.
$12-$15, 8pm, Paper Tiger, 2410 N. St. Mary's St., papertigersatx.com
.
– Chris Conde
Zoran Jelenic
Thu 1/25
Les Ballets Trockadero de Monte Carlo
Les Ballets Trockadero de Monte Carlo, which bills itself as "the world's foremost all-male comic ballet," is heading to San Antonio for a performance at the Tobin. The "Trocks," as the troupe is known to its fans, was founded in 1974 by Peter Anastos, Natch Taylor and Antony Bassae, who produced small, late-night shows in venues off the beaten path. After a receiving a rave review by Arlene Croce in The New Yorker and other glowing notices in The New York Times and The Village Voice, the troupe established itself as an artistic and popular success. By the mid-1970s, the Trocks had became an international sensation, performing in over 500 cities and 33 countries worldwide. Despite their comic approach, the troupe performs the full-range of ballet and modern dance with the intent of showing off each performer's technical skills. The dancers portray both male and female roles. According to their press materials, "The comedy is achieved by incorporating and exaggerating the foibles, accidents, and underlying incongruities of serious dance. The fact that men dance all the parts – heavy bodies delicately balancing on toes as swans, sylphs, water sprites, romantic princesses, angst-ridden Victorian ladies – enhances rather than mocks the spirit of dance as an art form, delighting and amusing the most knowledgeable, as well as novices, in the audiences."
$20-$59.50, 7:30pm, Tobin Center for the Performing Arts, H-E-B Performance Hall, 100 Auditorium Circle, (210) 223-8624, tobincenter.org
.
— Sam Sanchez
Shutterstock
Thu 1/25
Big Boi + The Cool Kids
Slated to bring his southern playalistic Cadillac funky grooves to San Antonio is none other than Lucious Leftfoot himself, Big Boi – one half of arguably the most influential duo in hip-hop, Outkast. Honestly, we don't know what else to say about this dude since he's legendary. Also on the bill is heaving-hitting alternative hip-hop duo The Cool Kids, who took the world by storm with their breakout hit "Black Mags." If this isn't one of the most exciting hip-hop shows to happen in the Alamo City, we're not sure what is.
$30-$65, 8pm, Paper Tiger, 2410 N. St. Mary's St., papertigersatx.com
.
– CC
Courtesy
Thu 1/25
Tango Fire
Since originating within European immigrant communities of Argentina in the late 19th century, the art of tango has become an international favorite with its seductive melodies and fiery footwork. Perhaps best defined in the 1998 Carlos Saura film Tango, the art form continues an evolution spurred by the rise of television dance competition shows and YouTube streaming. On Thursday, Tango superstar German Cornejo brings his world-renowned dance troupe, the Tango Fire company of Bueno Aires, to the Empire courtesy of ARTS San Antonio. Cornejo, along with partner Gisela Galeassi, are best known to American audiences for their appearances on America's Got Talent and the Jennifer Lopez-produced reality show ¡Q'Viva! The Chosen. Dancing to the music of tango master composers (including Piazzolla, Gardel and Pugliese), Cornejo and company offer a fresh glimpse into the world of Argentine tango.
$29-$99, 7:30pm, Charline McCombs Empire Theatre, 226 N. St Mary's St., (210) 226-2891, artssa.org
.
— Marco Aquino
Courtesy
Thu 1/25-Sun 1/28
Little Women
Louisa May Alcott's sentimental tale of the four March sisters has been touching hearts since its publication in the mid-1800s. Now it can be enjoyed on the stage as a musical production centered on the boisterous and effervescent Jo, who dreams big but never forgets her roots. At the March home in Concord, Massachusetts, Jo, Beth, Meg, Amy, and honorary March family member Laurie grow together and experience love, loss, and personal discovery in this timeless story that's partly based on Alcott's own life. Come celebrate the newly re-christened Public Theater of San Antonio (formerly The Playhouse) as it brings this uplifting story to the stage under the direction of Andy Meyers.
$20-$35, 7:30pm Thu (pay-what-you-can preview), 7:30pm Fri-Sat, 2pm Sun (through Feb. 18), The Public Theater of San Antonio, Russell Hill Rogers Auditorium, 800 W. Ashby Pl., (210) 733-7258, thepublicsa.org
.
— Kelly Merka Nelson
Jaime Monzon
Fri 1/26
Mushy Magazine Release Party
Dedicated to sexual education, exploration and liberation, the folks behind Mushy Magazine are already about to release their fourth issue and we're more than a little stoked, 'cause their shit is pretty hot. In celebration of the release, the folks behind the magazine are throwing a party featuring rappers Mchl Mnt$ + Ndo Chan, Inner City Kids presents The Parish, DJ Dennis Loy, and DJ Je Von M. Also on the bill is none other than performance art collective House of Kenzo, who have been setting Texas on fire with official showcases at SXSW and Day For Night. Since their performances have becoming more rare in the 2-1-0, this is the perfect opportunity to watch one of the most exciting groups in San Antonio perform on their home turf.
$5, 9pm, Paper Tiger, 2410 N. St. Mary's St., papertigersatx.com
.
– CC
Spurs Sports and Entertainment
Fri 1/26
Spurs vs. 76ers
Earlier this month, Philadelphia phenom Ben Simmons became the latest Sixer to be honored with his own specialty beer. A joint collaboration between Philly's Misconduct Tavern and Conshohocken Brewing Company, All About the Benjamins is a New England-style IPA brewed with Australian hops, celebrating Simmons' Boomer roots. Between Simmons' runaway Rookie of the Year campaign and Joel Embiid's emergence as an All-Star, there's plenty to drink to in the city of brotherly love. After years of being mired in the NBA draft lottery, the scrappy Sixers are knocking on the door to the post-season party and, like Simmons, fighting for respect along the way. With "injury management" remaining a key concern for the Spurs, San Antonio's own young guns continue to contribute when called upon. Granted the opportunity, Dejounte Murray, Brandon Paul, Bryn Forbes, and Davis Bertans have the fresh legs to keep pace with Philly.
$19-$737, 7:30pm, AT&T Center, One AT&T Center Pkwy., (210) 444-5000, attcenter.com
.
— M. Solis
Daniella Hovsepian
Fri 1/26
Jonny Lang
Born Jon Gordon Langseth Jr., blues, gospel and rock singer-songwriter Jonny Lang has soul. The kind of soul that makes you think "How? How does this person have this much soul." Also, on top of how sexy his music already is, the soon-to-be 37-year-old is sort of a hottie with a body. But sex appeal alone hasn't gotten Lang this far. The artist has garnered high positions on the Billboard 200 chart and even won a Grammy for 2006's Turn Around. Do yourself a favor and listen to "Make it Move" from 2017's Signs.
$25-$50, 8pm, Aztec Theatre, 104 N. St. Mary's St., (210) 812-4355, theaztectheatre.com
.
– CC
Courtesy
Sat 1/27
BandMerch Night Vol 3
Band Merch Night, one of our favorite recent developments in local music, is going big for its third installment. For the Aztec edition of the home-spun rock and roll pop-up sale and show, attendees can expect a convention style setup — if the convention was also a badass concert. More than 25 local acts will be on hand peddling miscellaneous wares and music, while Alyson Alonzo, AMEA, The Black Market Club, Collective Dreams, Lloronas, PINKO, True Indigo, and Wayne E. Holtz will perform. There will also be food, drinks, artisan (and vinyl) vendors, a special DJ room, and more. All in all, this is a great opportunity to support your local music scene and get a live taste of some of its finest talent at the same time. $10-$12, 6pm, Aztec Theatre, 104 N. St. Mary's St., (210) 812-4355,
theaztectheatre.com
.
– JC
Netza Moreno
Sat 1/27
This Is a Manifesto
Although she was born in Georgia and now calls New York home, playwright, curator, artist and activist Virginia Grise maintains strong ties to San Antonio. Besides the fact that Grise grew up in the Alamo City, her work continues sto resonates here: The Guadalupe staged her Yale Drama Series Award-winning play blu to a full house in 2013; Teatro Auduaz kicked off its 2016 Nuestras Voces series with a presentation of The Panza Monologues (her anthology surrounding "that roll of belly we all try to hide"); and Trinity University closed out its 2017 Latinx Heritage Month series by welcoming Grise for a reading from Your Healing is Killing Me (a "performance manifesto based on lessons learned in San Antonio free health clinics and New York acupuncture schools; from the treatments and consejos of curanderas, abortion doctors, Marxist artists, community health workers, and bourgie dermatologists"). The official opening of Jump-Start Performance Co.'s 2018 season, This Is a Manifesto sees Grise collaborating with local artists for a series of readings and performances developed through a weeklong exploration of "artistic practices rooted in the politics of imagining a better world."
$5, 8pm, Jump-Start Theater, 710 Fredericksburg Road, (210) 227-5867, jump-start.org
.
— Bryan Rindfuss
Natalie Rhea
Sat 1/27
Tish Hinojosa
A San Antonio folk singer who's twice hit the Billboard Country charts, Tish Hinojosa has been delivering charming singer-songwriter performances since the late 1980s. The youngest of 13 children, Hinojosa's parents immigrated from Mexico and her songwriting reflects that cultural cross-bridge as she narrates stories in both English and Spanish. With a soft but sturdy soprano timbre and confident acoustic guitar strumming, the Alamo City native is sure to deliver a memorable performance.
$24.50, 8pm, Carlos Alvarez Studio Theatre, The Tobin Center For The Performing Arts, 100 Auditorium Circle, (210) 223-8624, tobincenter.org
.
– CC
Courtesy
Sun 1/28
Margo Price
Like any genre of music or medium of art, there are those artists and musicians that produce art that comes off as absolutely contrived, forced or deliberately fashioned to appeal to a certain audience. Then, there are those artists who fluidly communicate from their soul something unprentious; an organic reflection of their spirit using textures and tones that doesn't sound like the artist is trying to be anything other than themselves (even though she does possess a similar vocal timbre to Dolly Parton). Country singer-songwriter, Margo Price is one of the best examples of what I'm talking about. With an asphyxiating amount of folks trying to make it big in the country music world, Price's music catalog of traditional-sounding country with a hint of pop-aesthetic, minimal instrumentation and production, is a breath of fresh air reminiscent of the greats that came before her in the genre.
$20-$90, 8pm, Sam's Burger Joint, 330 East Grayson Street, (210) 223-2830, samsburgerjoint.com
.
– CC
Youth Orchestras of San Antonio
Sun 1/28
P.D.Q. Bach and Musical Comedy
With its earliest roots planted in 1949, the nonprofit Youth Orchestras of San Antonio (YOSA) has evolved from a district-specific student symphony to a sprawling conglomerate comprising nine distinct orchestras representing 158 schools in Bexar County and environs. Under the direction of Troy Peters since 2009, YOSA has won over fans of all stripes with its Classic Albums Live series, which welcomes local musicians into the fold for start-to-finish interpretations of beloved albums (Radiohead's OK Computer, The Beatles' Abbey Road, Prince's Purple Rain) backed by the YOSA Philharmonic (save the date for Hotel California Live on March 12). Drawing inspiration from composer, author, satirist and musical mixologist Peter Schickele and his comedic alter ego P.D.Q. Bach (an alleged illegitimate offspring of Johann Sebastian Bach who's been called a "pimple on the face of music"), YOSA's P.D.Q. Bach and Musical Comedy showcases the talents of pianist Jeffrey Biegel in a program featuring the "last and least" Bach's Concerto for Simply Grand Piano and Orchestra, Leonard Bernstein's lighthearted Candide Overture and Zoltán Kodály's Háry János Suite — a "tuneful collection of tall tales based on the exaggerated stories of an aging Hungarian soldier."
$16-$22, 7pm, Tobin Center for the Performing Arts, H-E-B Performance Hall, 100 Auditorium Circle, (210) 223-8624, tobincenter.org
.
— BR
Albert Tatlock
Mon 1/29
Machine Head
One thing that really set Machine Head apart from the nu-metal wave that flooded the early aughts, was they always had more of a traditional metal edge to them than their counterparts. On "Ten Ton Hammer" for instance, the opening track from 1997's The More Things Change…, the Oakland quartet open with a groove-heavy breakdown similar to bands like Throwdown or Hatebreed but with sung vocals to match the intensity of the verse and chorus. The combination sort of sounds like a second generation of Pantera. It is a little weird that they got lumped into radio playlists alongside bands like Korn, and Limp Bizkit since their catalog reflected more straightforward metal tracks contrast to the genre-bending and experimental exploration of numerous bands in the genre.
$25, 8pm, Aztec Theatre, 104 N. St. Mary's St., (210) 812-4355, theaztectheatre.com
.
– CC