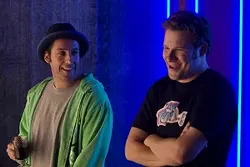 Critic's Pick
Funny People
Director:
Judd Apatow
Screenwriter:
Judd Apatow
Cast:
Adam Sandler, Seth Rogen, Leslie Mann, Eric Bana, Jonah Hill
Release Date:
2009-08-05
Rated:
R
Genre:
Film
Our Rating:
3.00
As sad clowns go, Adam Sandler is superior to Robin Williams, but probably not as good as Jim Carrey. Hard to say for sure, though, because Sandler's basically playing himself — though hopefully a sadder lonelier version — in auteur Apatow's latest dick joke with a heart, Funny People. Sandler plays veteran comic George Simmons as a pretty typical tragic success story — alone in a giant mansion, making everyone laugh while never cracking a smile, a talented stand-up who's ultimately popular for a series of roles Rob Schneider wouldn't touch (a man-headed freak baby, a male mermaid), films you get the feeling he probably hates. When he's diagnosed with a fatal form of leukemia (then immediately hounded for photographs on his way out of the doctor's office), Simmons wastes no time discovering how depressing a life lived among his hired servants and one-night starfuckers really is. His solution? Hire struggling comedian Ira Wright né Wiener (Rogan) as a personal assistant/hourly friend and try to reconnect with lost love Laura (Apatow's wife Mann), regardless of her scary Australian "footy" playing husband and two children.
That's about it as far as plot goes, and you'd have to graph Simmons's character arc on an extremely small scale to distinguish it from a straight line. But Sandler is also the funniest he's been in years, and the film's meditations on the cost of celebrity and the personal pain behind so many punchlines are unsubtle but effective. And you've got plenty of time to meditate.
At 146 minutes, Funny People is Apatow's longest movie to date (13 minutes longer than the downright sprawling Knocked Up) and most digressive. Considering Apatow's idea of filmmaking hasn't progressed much past pointing a camera at the cast of Freaks and Geeks and sending his editor out to lunch, that's saying something. We're talking a long, discursive film of The Killing of a Chinese Bookie director's cut proportions, though Apatow's film is actually 11 minutes longer, and rambles not as the result of infuriating genius but because of Apatow's unwillingness to lose a single laugh line. And that becomes a problem when you're managing the biggest cast of comedians this side of It's a Mad Mad Mad Mad World.
True to its name, Funny People is full of comedians, and not just the usual Apatow faces. In addition to regular Hill as Ira's fellow comic and roommate, we've got Jason Schwartzman as a smug rising sitcom star, Parks & Recreation's Aubrey Plaza as Rogen's love interest, and Aziz Ansari as a rival comic — and none of them are necessary. Even more pointless though is the ceaseless stream of celebrity cameos — from Sarah Silverman and Norm MacDonald to Paul Reiser and Carol Leifer — playing themselves. Sometimes they're funny; a lot of times they don't say anything at all. You'll laugh but you probably won't cry, and by hour two you'll start to think a better title might've been All the People Judd Apatow's Ever Met Make Jokes About Their Genitals.