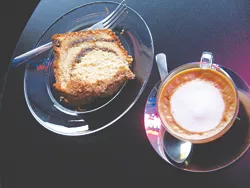 Coffee cake and a macchiato keep each other company at Jupiter.
Release Date:
2008-03-12
Aahhh. I like it here. See, I'm kind of a coffee lover (addict, zealot). And also, I like people. Nice people. Nice people who are competent with espresso. (But don't call me picky.)
I'm no enemy of a theme, either. And though I'm partial to "French fleamarket," Space Age will do just fine. Jupiter's décor is something like you'd imagine: purple, red, and black in color, with modern (methinks Ikea) furniture organized for openness and comfort. Posters — including one of the coffee shop's titular planet — adorn the wall along with paintings and a large mosaic Superman "S".
The first time I journeyed to Jupiter (for this review anyway) it was a gorgeous, sunny, mid-weekday, and though I couldn't locate a parking space in the immediate orbit of the coffee shop, I was feelin' pretty chipper (the vitamin D maybe) and spunkily made my way down South Alamo by foot. (Oh, yeah, Jupiter definitely doesn't lose points for being located right next to the best place in SA for French fries).
The two staffers were all smiles, only furthering my vivacious mood. As she methodically created my to-go cappuccino, the barista and I discussed weather-induced daydreaming and pink hair. What a refreshing shift, I thought, from the crowded, impersonal, assembly-line styling of that other place — you know, the chainy one with the green siren logo. Talk about espresso as an experience: This was hypnotic to watch.
Now, I wouldn't go so far as to say I'm the Ron Bechtol of java, but I know a thing or two, and a cappuccino, in my opinion, should essentially be the backbone of a coffee shop. I mean, really, if you can't do that, get out of business (unless your Mexican Mocha is killer `ahem`; then I guess you can keep your River Walk establishment open).
Anyway: Really I should have stayed in and drunk from Jupiter's gorgeous Bodum double-walled glassware, because the snobs among us know that the paper cup changes the taste of the coffee. However, I was very pleased nonetheless. The espresso itself had the taste of — and it sounds weird, but I mean this in the best possible sense — that really good, clean soil smell after a rain. The beans from which it was derived were roasted to that perfect degree of maintaining a hint of oil — not too much — that prevents the icky mouthfeel we're all familiar with after a mug o' work coffee. (The oiliness reminded me a little of Seattle's Victrola, actually). Combined with the steamed milk, the silky espresso was a light caramel color, like cocoa butter maybe … but it took time to get there through the dense, sweet foam. Seriously, you could set a quarter on that shit. Or take a bath in it, which is sort of the way I was leaning.
Instead, I lingered at a table near the giant storefront window and imagined staying to do my writing. Alas, my laptop was at work, so I scribbled a few initial thoughts, and returned the following week on a decidedly stormy morning with a companion to enjoy homemade coffee cake (traditional, with the moistness of a Harvey Wallbanger cake) and an Americano (which was smooth and miraculously the right temp from start to finish). Rain or shine, a coffee run to Jupiter is a mission I'd gladly accept.