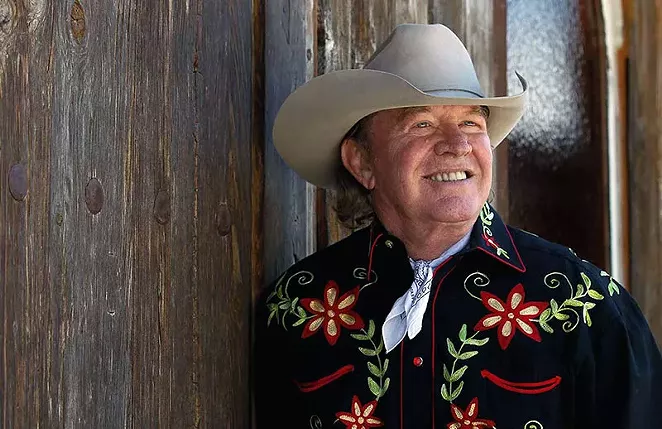 Courtesy
Nunn in his Western best.
For a songwriter, particularly one in the country and western sphere of influence, there isn't much greater an honor than having Willie Nelson play your song. And for him to do so live and to include it on several greatest hits records is just about tantamount to receiving a Nobel Prize for songwriting. Gary P. Nunn is one such songwriter. Probably most well-known for his Texas country music anthem "London Homesick Blues," which, much like Nelson's own music, utilizes far-out chords and substitutions that are more often seen in jazz than the I-IV-V wheelhouse of honky tonk music, Nunn first made a name for himself as a sideman for Michael Martin Murphey and Jerry Jeff Walker, playing numerous instruments in the Lost Gonzo Band from '73 to '80, before striking out on his own.
If it wasn't for Gary P. Nunn, who was gigging and kicking around in Austin in '68, Willie and Waylon would have most likely never come to the blossoming Texas college town to turn on the rednecks and hick out the hippies; outlaw country would have never established itself as the alternative, along with the already established Bakersfield sound, to Nashville and RCA label head Chet Atkin's saccharine methods of recording; and country music may have slipped back into the intricate woodworking of the American musical experience. Gary P. helped convince many of the vanguard of Nashville's songwriter-by-day, starving-songmonger-by-night to scope out the vibes in Texas' capital.
With the catalytic current of e-z media that has oozed into the porous existence of the modern American, our cell phones being the main offenders, I wondered if Nunn, 69, who is still on the road at least half of any given year, has noticed a decline in Texas' nightlife. So, I asked him. "No, no not at all. I would say just the contrary. Course Austin, San Antonio, all over Texas, even some of the smaller towns are starting to create newer venues and open up places of entertainment...Course you got a big football game on TV, that's big competition...but, it seems like the nightlife is going strong...Sometimes I get a little frustrated, some of these college kids will be sitting right in front of the stage and have their back turned to me and they'll be texting. So I tell them 'You people are forbidden to text during my show unless you're downloading my tunes.'"
I really wanted to know about Gary and his merry band of hicksters' utilization of country music to air their opinions about the ever-evolving state of affairs, so I asked: "You and your Austin compatriots have been intellectualized as turning country music on its head by injecting irony and counter-cultural themes into the classic country style. Was this a conscious effort or a natural progression?"
Gary didn't bat an eye (and I would've heard it over the phone). "I would say it's a natural progression. We were removed form the traditional country music environment, not being in Nashville and being influenced by the way things were done up there. Course, y'know it was coming along on the late '60s and the early '70s...there was definitely cultural changes going on, the counterculture was raising its head and everybody was protesting the War, growing long hair. So it just came from a different place, a different background, a lot of them were probably college-educated, I know most of my compatriots were, I was...I think it was just a natural progression of the writers' backgrounds and the times and the culture that we were in."
One landmark thing Gary did for country music – that with all of the hawkish flag-wagging still seen today is sometimes overlooked by the casual country listener – is introduce the ethics and principles of the hip, turned-on college student to the often stuffy and jilted ol' biddy of a genre. Unfortunately, many people still see country music as having particularly hayseed, hickish politics. "I think in the, I'll say rock 'n' roll culture, for lack of a better general term, there is a general perception that people from the country, that believe in country music are backward or hayseed, like you say. Of course country music originated in, and was steeped in, gospel music and the Christian religion and bluegrass music. Country music is sort of an outgrowth from backsliders. People drinking and carrying on and then paying the dues for that kind of lifestyle."
"You feel 70?" I asked the man who penned one of the best holiday songs of all time and Willie Nelson favorite "The Last Thing I Needed, the First Thing This Morning."
"No, not at all. I don't feel any different than when I was 21, as far as in my mind." Believe it or not, Gary P. Nunn is turning 70, and you can celebrate the life of the man who confirmed for us that Texas is home of the friendliest people in the world and the prettiest women anyone's ever seen.
Gary P. Nunn's 70th Birthday Party
$12-$15, 7pm Fri, Dec. 4, Floore's Country Store, 14492 Old Bandera Road, (210) 695-8827, liveatfloores.com