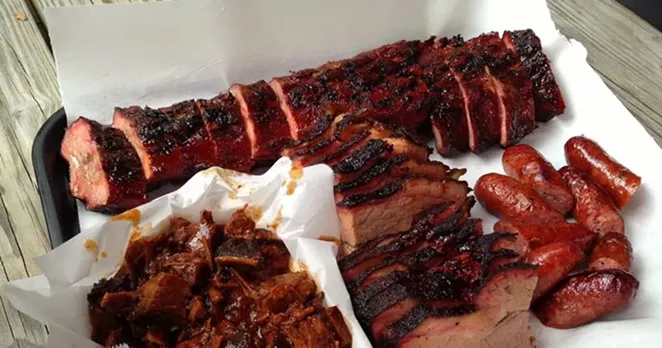 Facebook/Edible San Antonio
Mmmm, meats.
If you're anything like me and forgot to make Fourth of July plans, this blog could come in handy. And really, what's more American than meat sweats?
Paper Tiger's back in the food game after a fun night of barbecue and beer with the
Current
, Deep Ellum Brewing Co. and Jason Dady for the inaugural Pints & Plates. This time seven chefs will take on all the animal proteins during The Meat Sweats, hosted by the Empty Stomach Restaurant Group and Edible San Antonio on Sunday, July 3 from 2 to 10 p.m.
The barbecue shindig will feature some big names in the SA food game. Here's what each chef will bring to the table, in alphabetical order: Folc's Luis Colon is making barbecue ribs and barbecue pork belly with creamed corn; Dady's keeping it classic with pulled pork sliders; Diego Galicia of Restaurant Mixtli and Mezcalería Mixtli will pull a spit into the Paper Tiger grounds for legit al pastor tacos with slow-roasted pineapple, cilantro, onion and green salsa on corn tortillas; Cured's Steve McHugh and team will make a jerk-style whole roasted pig in a Caja China roasting box with mango salsa and herbed rice; Tim Rattray of The Granary 'Cue & Brew will bring a pigs head pastrami and a separate dish of crispy smoked pigs tails with Texas peach barbecue sauce; Pieter Sypesteyn of The Cookhouse, in true New Orleans fashion is preparing two 40-pound gators for alligator sauce piquant. No word yet on what Hot Joy's John Philpot is grilling for the occasion but expect a beefy element.
You won't have to hear other attendees chow down on their 'cue in total silence, either. The party includes tunes from Joe King Carrasco, The Hickoids, The Beaumonts, Garrett T. Capps & Los Lonely Hipstarz, Winsome Losers and DT Buffkin.
Tickets for the event are
$25 in advance
or $35 at the door.