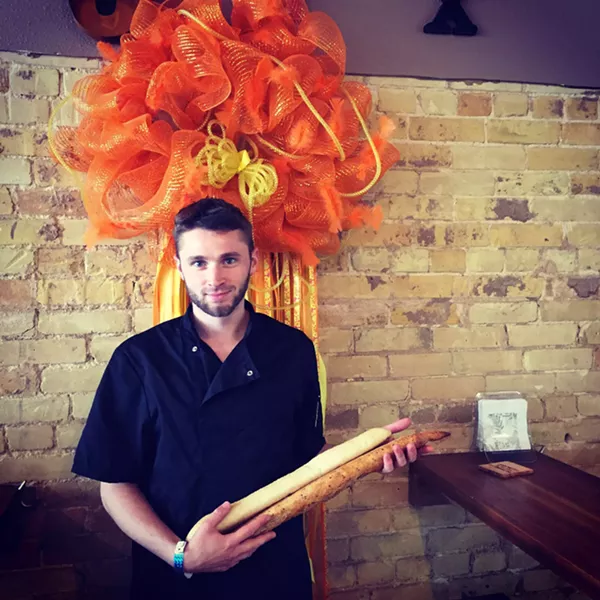 Courtesy of La Boulangerie
Name:
Guillaume Boulard
Age:
25
Place of work:
La Boulangerie (207 Broadway, 210-639-3165)
Institution of learning:
Five years of baking training at Le Centre de Formation d'Apprentis de la Chambre de Commerce du Mans ... I've also apprenticed with master bakers in Le Mans and Sèvres, France.
My favorite chef in town is:
Mark Bliss ... his food is well executed and reflects a great balance of refined sensibility and timelessness.
The biggest lesson I've learned in the last six months:
Be open, because anything can happen and everything is possible. I feel very lucky to have this opportunity to exercise my craft here in San Antonio. My American dream has become a reality, and I can't wait to see what the future will bring.
Top three places for baked goods:
La Boulangerie, La Boulangerie, and La Boulangerie!
One thing you'd like every local diner to know:
I've noticed that a lot of restaurants are searching for authenticity. To me, authenticity is staying true to the origin and tradition of the food, in terms of its ingredients and the technique in making it. You can find authentic food in the most unexpected places, yet not find it in a place where you would expect it to be. Authenticity at its soul is honesty and a passion for detail, which is what I try to bring to La Boulangerie.
If I've had a bad day I'm reaching for:
A good film to raise my spirits ... my favorite is a French film,
Le Prénom
(English Title: "What's in a Name"). My favorite American film is
Sherlock Holmes
, starring Robert Downey Jr.
Favorite way to learn more about your craft:
Observe your teacher well, and practice constantly. Don't be afraid of experimenting or making mistakes. It's the best way to learn.
Go-to food that isn't your own:
Pasta Carbonara ... it's my comfort food
Favorite thing to make in your own kitchen:
Escalope de veau à la Forestière ... it's a French dish made with veal scallops in a creamy mushroom sauce. You'll have to ask my boss Sylvain for the recipe though, he taught me how to make it!
What's your favorite/least favorite lifestyle change so far as a San Antonio transplant:
I have a great social life here. San Antonians are very warm, open and friendly, and always up to go out for a drink and party. Least favorite thing? It's hard to find really good French products like cheese and charcuteries without paying an arm and a leg.
Favorite baking cookbook:
Le Grenier à Pain
... it's a French baking cookbook by Michel Galloyer, a master baker in France who founded the famous Grenier à Pain artisan boulangeries, where I worked for five years. I believe this cookbook is only in French and hope they will come out with an English version soon.
The general public should eat/drink more:
Croissants and baguettes, of course! And to drink, a good Saint-Emilion Bordeaux.
The hardest part of my job is:
Waking up in the morning. I get up at 4 a.m. and start work at La Boulangerie at 5.
If I had all the money in the world, I would open:
A Parisian tea salon on the Riverwalk, where you can enjoy a croissant and café for breakfast.
What's your favorite tool in the kitchen:
I use a tool called a Bicyclette ... it's like six pizza cutters attached together that can stretch out like an accordion. It helps me cut the dough for viennoiseries and pastries quickly and evenly.
What's the most bizarre dish you've ever eaten:
A burrito ... It's rare to find Mexican food in France so it was definitely a first for me! It was one of the first things I ate when I arrived in San Antonio. The flavors and textures were quite intense and spicy. It was bizarre, but I loved it.