Courtesy of McNay Art Museum
As previously reported, the McNay Art Museum has concluded its year-long effort to replace retiring director (of 25 years) William J. Chiego. In selecting Richard Aste — who comes to us with 15 years of curating experience from the Brooklyn Museum and the Museo de Arte de Ponce in Puerto Rico — the McNay has put itself in a great position to continue the impressive and community-uplifting growth it enjoyed under Chiego's tenure.
Aste, a third-generation Latin American whose family emigrated to Miami when he was very young, got his PhD in art history the City University of New York and has earned a reputation as an inclusivity-minded, socially conscious curator, art historian and cultural leader. He's studied psychology, he's taught college classes, he's curated ground-breaking exhibits, he's spearheaded successful community outreach programs (particularly in Brooklyn), he's lived the immigrant experience, he's been a part of a minority-majority (in Miami), and he's been a part of a minority (as an undergraduate at the University of Michigan in Ann Arbor). In short, Aste is a dynamic individual, uniquely suited for an important cultural position in a world breaking apart at the seams from ignorance, intolerance and a lack of empathetic (or critical) thinking. To say that we are lucky to have him, however, would be to take away from our readers' delight in discovering that for themselves.

Last week, I sat down with Aste at the McNay and, as if he didn't have an extremely involved and important job to be preparing for, asked him all about his past, his passions, and what he hopes to bring to the museum. Perhaps you'll find his vision, candor, erudition, warmth and intellect every bit as refreshing as I did.

Tell me a bit about your childhood, especially ways in which it ties into your endeavors in the art world.
I grew up in between cultures, in between worlds. I descend from Europeans who crossed the Atlantic in the 19th century and came to Latin America. And there, they redefined themselves as Peruvian or Chilean or Bolivian. I'm third-generation Latin American. Then my family and I emigrated from Peru to Miami when I was only 1 [year old]. At that point, my brother and I added a third culture to our identity: the United States. And, we just lived somewhere in between these three cultures. We learned early on that the world is very broad and expansive and that identity is really complicated. I had moments growing up of feeling excluded, feeling other or exotic. And that is something that really informs what I do today. I am very sensitive to everyone's experience and, especially, to the experience of those who feel excluded. Though, I must admit, I was fortunate to grow up in Miami, where, like in San Antonio, I was part of a minority-majority as a Latin American.

I don't come from privilege; my parents were both airline industry people. But, they were committed to taking advantage of the traveling opportunities that offered. We were able to travel for free all over the world and my mother in particular, who is a real culture vulture, was very keen on educating my brother and me through immersion into world cultures. So, every summer, when my brother and I really wanted to go to summer camps with all of our friends, we instead spent the summers in Africa, or in Europe, or Latin America. As a result of that, we spent a great deal of time in museums and I never felt unwelcomed.

I first became enraptured with art after a transformative experience when I was only 10. I was looking at a Botticelli in Florence and I felt it change me. I felt passion for the first time. I was so young, but I knew that something big was in front of me, something really important. I didn't have my art history PhD yet, but I just knew that I wanted to pursue that feeling. I knew I wanted to have that feeling be a part of every day of my life, which is what I have done.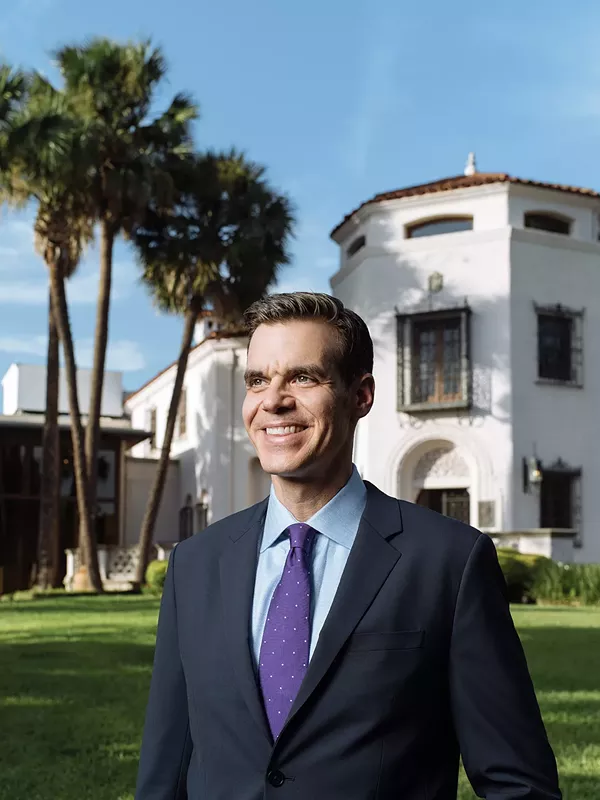 Courtesy of McNay Art Museum
Has any of your extensive academic training in art (or otherwise) ever taken away from that raw, intense, and magical initial reaction?
That's a very good question. It's funny; I still have a visceral, fundamental response to transformative works of art. Of course, now that reaction is somewhat altered by the layers of information that has come from my training and study and work. But, that hasn't taken away, thankfully, from that very pure communion with art that I first felt as a young boy. I am really committed, as the McNay's director, to having everyone in the city and in the region feel that same power at this museum. And, in that pursuit, I am building on the impeccable commitment and work of Bill Chiego. Still, even just recently here at the McNay, whenever I want the world to slow down, I stand in front of a powerful work of art and I can go back to that 10-year-old moment.
What do you see as the biggest value for people in viewing and engaging with art in our contemporary world?
Engaging with a work of art is getting to know yourself. When you stand in front of a work, you aren't just seeing material; you are seeing social deposits of everything that came before. A work of art is very powerful because it has a life. It is a two-way conversation that we have with artworks. It is important to slow down and witness that moment firsthand, because we are constantly bombarded by too much stimuli. That's why art in an art museum can be so powerful and transformative. And, I think, generally speaking, we all need to slow down sometimes.

What do you see as your foremost intellectual quest in your work?
I really want for the visitor, in particular, to be able to think big as a result of coming here and engaging with the work we have up in the galleries. And, what I mean by thinking big is experiencing something new, something transformative. I want to combine scholarship with accessibility, without ever having to sacrifice scholarship. What I find the most thrilling is taking something very complicated and historical and making it relevant today. Bridging that gap is a thrill. The intellectuals who I respect the most today are the clearest writers and communicators. It takes an extra degree of intellect to be able to boil something down into something that resonates with all age groups, without compromising the rigor and the scholarship. For 15 years as a curator, I have had the privilege of telling stories with great works of art. I have been engaging in narratives that were politically driven, that were socially responsible, and that were aesthetically excellent. There are so many stories one can tell as a curator. I was most passionate as a curator, and I will bring this with me to the McNay, about back-dating globalization and reminding our visitors and this city that it wasn't the internet that brought us together for the first time, that we've been interconnected as global cultures since the late 15th century.
What are some of your goals as director of the McNay?
My very first goal is to build on [Chiego's] legacy and continue to expand on his (our) core value, which is making these world-class collections at the McNay accessible and breaking down social barriers so that no one coming into this building, or even onto this campus, ever has to ask, "Is this place for me?" I want to make sure everyone feels at home here and that everyone feels welcomed and positive about their experience here. That sincere desire will drive me, as it did [Chiego], in all that I do here. I want to bring in exhibitions that are culturally relevant and speak to the interests of every San Antonian. This is an incredibly diverse community, which is, in fact, one of the reasons I came here.
Without sounding too skittish, I have to ask: Do you see yourself as in this for the long haul, like your predecessor?
Absolutely. Absolutely. For the great ideas that any director brings to an institution, it requires years and years of planning and execution. To come and have a very brief tenure in a position like this is not productive, it's not valuable and it's not inspiring to the visitors. I am very committed to a long-term investment here. And, I pretty much felt at home in this museum and this city as soon as I first came.