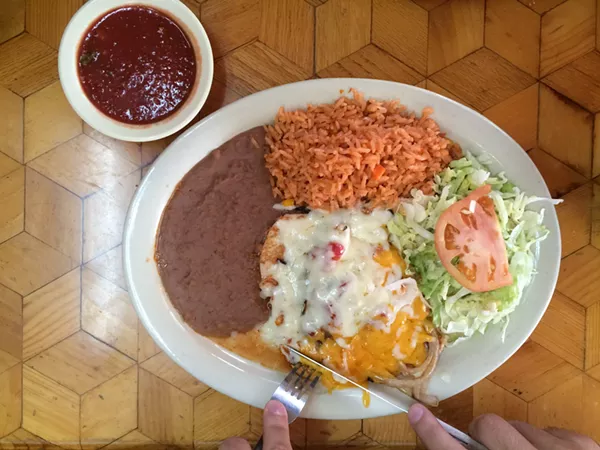 The Pollo Fantastico at Taqueria Hacienda Tapatia
If you're near Rittiman and I-35 around the lunch hour, there's no shortage of amazing, inexpensive Mexican restaurants, though Tapatia seems to be consistently among the most popular. The interior of the restaurant is structured similarly to a Jim's or Denny's, with wooden risers separating the seating area like a bookcase into compartments.

Most of the clientele are laborers, and there certainly seemed to be an emphasis on efficiency. Orders are taken quickly and food is presented in short order, allowing anyone looking for a quick bite to find an appealing option in the taqueria.

Chips and salsa are gratis, though graze lightly because the lunch special portions are generous. I went with the enchiladas verdes ($7.49), a combo that included three torpedoed tortillas brimming with chicken, an ample serving of rice and beans, and a piquant, acidic tomatillo sauce that had a pleasantly subtle warmth of spice.

My dining companion chose the "pollo f
antastico" ($7.99) which, as you can imagine, had a lot of hype to live up to.
A chicken breast from some megalithic bird was covered under sautéed onions in
a stunningly earthy ranchero sauce. You could almost miss it though, as the
bird was entirely concealed under a blanket of cheese, and flanked on either
side by oceans of rice, bean, and mixed vegetables.

Both entrees came with two
fresh tortillas, and service attentively refilled drinks and replenished salsa
throughout the meal. Given the pre-meal chips and salsa, neither of us were
able to finish our plates, a disappointment that was compounded by my inability
to try any of the fresh pastries available at the cash register.


Though prices never drop below $6 for any of the
plates, a la carte tacos, flautas, and gorditas are all available for less than
three dollars, and many of their plates can easily be stretched into two meals.
When it comes to quick, generous Tex-Mex options, look no
further than Hacienda Tapatia if you find yourself on the east side.

6402 N. I-35, (210) 599-3600.
For more, follow Mark on
Instagram
and
Twitter
.