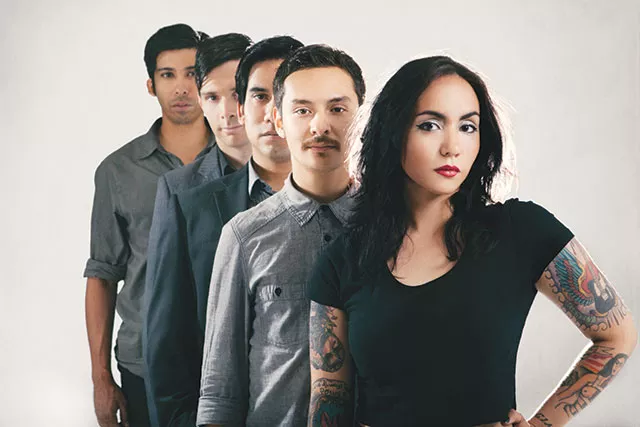 Daniela Riojas
Front to back: Nina Diaz, Jorge Gonzalez, Jaime Ramirez, Justin Carney and Travis Vela
With her lifetime's work rooted in the SA trio Girl in a Coma, 2014 marked the year for singer Nina Diaz to branch out on her own thing. In the practice space early this year with Coma-mates Jenn Alva and (sister) Phanie Diaz, Nina realized that her new compositions might be better suited in solo form.
In the past, Nina had written the bones of Girl in a Coma's tunes on guitar, later bringing them to practice to flesh out the music with the band. But on the new stuff, "right away in the beginning, I was writing drums, bass and guitar—everything," Diaz told the Current. "And I'd never really done that before. I wrote a song called 'Trick Candles,' the first song where I wrote everything. I tried to show the girls and it just didn't feel right. I was forcing them to do something. That's when I realized I needed to go off on my own and luckily they understood."
As Jenn Alva and Phanie Diaz took the hiatus to form the frantic punk outfit Fea, Nina Diaz continued writing for multiple instruments. "The voice is going to be the same, but I notice I'm a lot more confident," said Diaz. "When I'm talking about it and singing, there's a lot of passion."
To debut her new music, Diaz compiled a tight crew to follow her lead. Featuring drummer Jorge Gonzalez of Pop Pistol, guitarist Travis Vela of the Bombasta Barrio Big Band, former Bombasta keyboardist Jaime Ramirez and The Whale's Justin Carney on bass, the instrumentation sounds strikingly different than Diaz's Girl in a Coma songbook. "We have samples, too," added Diaz. "With Girl In a Coma, it's just rock. Bass, drums, guitar and a lot of fun. It's fun here in a different way, because we lose ourselves in it. We're all great musicians; we have each other's back."
In June, the band held a three-night residency at the Belmont in Austin, stretching out onstage on the material whetted in practice. From these sessions, there's a scorching cover of Selena's "Techno Cumbia" and an original, "Rebirth," available online. On "Rebirth," Diaz and the band begin with some powerful and orchestrated hits on a straight-laced rock rhythm, transitioning into a cumbia-rock groove. Over pan flute keys, sparse, rhythmic guitar chords and a bending vocal loop, Diaz sings in her arresting and dynamic style. "Back from the dead like I told you," Diaz sings on the hook, an appropriate phrase for her first focused effort since 2011's GIAC release Exits & All the Rest.
With the quintet, Diaz's pipes take center stage, as the additional musicians color in the arrangements. "In a three-piece you have to be on top of your stuff," said Diaz. "Here, there's a little extra room to breathe. With this band I can relax, for half the set I don't even play guitar."
Of course, for every new opportunity in performance, there's also a new challenge. Without a guitar to ground her onstage presence, Diaz was faced with a crisis of movement: what to do with her hands onstage. "I actually met with my friend Gio[mara Bazaldua, of Zombie Bazaar Belly Dance]," said Diaz. "I had my own little lessons. 'Cause you know you dance at parties and clubs and you lose yourself there and it's dark. But onstage it's a little different. I like to tap into my inner dance. And dark, dark-dancing stuff."
After her time at the Belmont, Diaz took the band on a brief tour of the West Coast, made even briefer by some vocal ailments. "We only got to Arizona and Long Beach," said Diaz. "I quit smoking recently, and that was a week after I quit. I was getting flu-like symptoms, and it just so happened right in the tour that my voice left. As if I needed to get knocked on my ass to not get cocky. I thought I was humble before, but then that happened and I was like, 'Shit, now I'm extremely humble. I'll do anything for these guys.'"
Though the band has been performing since June, because of the nicotine withdrawal blues, they've only played together live on six occasions. Fresh for both Diaz and her SA audience, Saturday's gig to open the Tobin's outdoor River Walk Plaza is an exciting introduction all around.
Nina Diaz feat. Lonely Horse, David Garza
Free RSVP at do210.com
(first come, first serve basis)
7pm Sat, Sept 6
Tobin Center for the Performing Arts
100 Auditorium Circle
(210) 223-8624
tobincenter.org