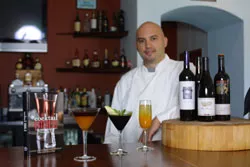 West Avenue Kitchen owner and chef Rick Frame sets up cocktails at his restaurant's full bar.
Release Date:
2008-04-30
West Avenue Kitchen continues to be a surprise for three reasons, the first being food. For those who enjoy casual dining with excellent quality in the tradition of Liberty Bar and La Frite, West Avenue Kitchen must be added to that short list. In fact, based on my last two meals there, I would go so far as to put it at the head of that queue. Second, it's never as crowded as it should be. Chef and owner Rick Frame could be the best chef in town that no one knows about yet. Third, they now have a full bar.
I went in several days ago with friends for dinner but was happily distracted by the new bar. After that first experience, I wanted to nominate West Avenue's John Biron for the best bartender in town but, alas, the deadline for the 2008 Best Of SA issue had passed. And, in truth, Biron is more than a bartender. Basically, he runs the floor and Frame runs the kitchen. (Frame's father often helps out as well.)
Biron impressed us immediately with his immense knowledge and skill. Though we could have ordered our usuals, after talking to him we decided to try some of his specials, including the house sangria. A few too many bad experiences with sangria at parties made me want to avoid it forever. In most hands, sangria is only a short step up from trash-can punch. Biron's recipe, on the other hand, is time-consuming — he cooks fresh fruit in the pan before he adds the wine — but it amounted to the best sangria I've ever tasted. There was a complexity of flavors, but never did the sweetness of the fruit overwhelm or cheapen the drink. It was a revelation.
Biron also persuaded us to try a vodka-orangina concoction he had thrown together for fun. It had been steeping for a few weeks with fresh oranges and, as he suggested, we tried it as a digestif to punctuate our meal. The liquor had a nice hot kick that quickly subsided as the citrus flavors arrived. If only this drinking practice was more common at restaurants, I thought to myself.
A Spanish albariño was recommended for the wine drinker in our group. My palate for good wine is still quite crude. In that sense I'm like the Supreme Court judge describing porn: I can't define it, but I know it when I see it. This is all to say that the albariño, with a pear aroma and delicate follow-through, was a huge hit. Our group had never heard of it before and was all too happy to drink the entire bottle.
We tasted other hand-crafted drinks as well, including Biron's blueberry-pomegranate mojito. As with his other drinks, the taste of fruit was genuine and never overly sweet.
If you sit at West Avenue's bar, you'll enjoy a great synergy between dining and drinking. Many of the upscale casual restaurants in town feel too formal, even if the attire is not, and perhaps that is what I enjoy most about West Avenue Kitchen: The food is outstanding, the atmosphere is sophisticated, and it's all in the service of a fun dining experience.