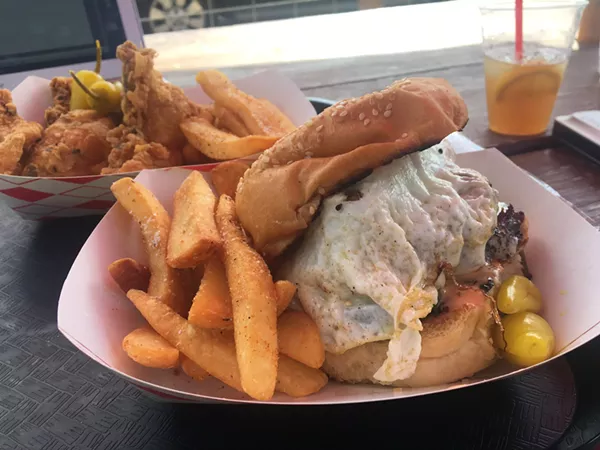 Just a day shy of its two-month anniversary,
Bexar Pub
finally launched their food program this past weekend with a solid menu of fried chicken, tacos, nachos, fries and, yes, the Folc Burger.
The menu ranges from $4 to $28 (for 12-pieces of chicken with fries and biscuits), and the burger clocks in at $12. Slight changes have been made. Because of the size of the kitchen, the patty of brisket and pork belly is no longer ground in-house, but they left that to the capable hands of Bolner's Meat Market. And the bun, which was baked in Folc's own wood-burning oven is now made by the staff at The Bread Box, which helps soak up the runny egg. Otherwise, the burger, named last year's Best Burger in the State by Texas Monthly, remains intact with just the right amount of Folc sauce, pork belly, bread and butter pickles that make for a ridiculous bite, but also a solid mess. It's worth all the napkins you'll use.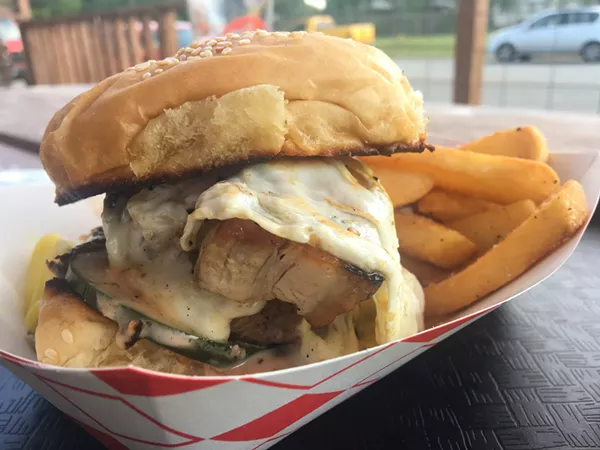 The
burger resurfaced
after Folc and Park Social closed its doors earlier this year after disputes with their landlord. And it brought some friends as the menu also includes four more burgers to choose from along with a long list of add-ons.
114 Brooklyn Ave., (210) 236-7828.