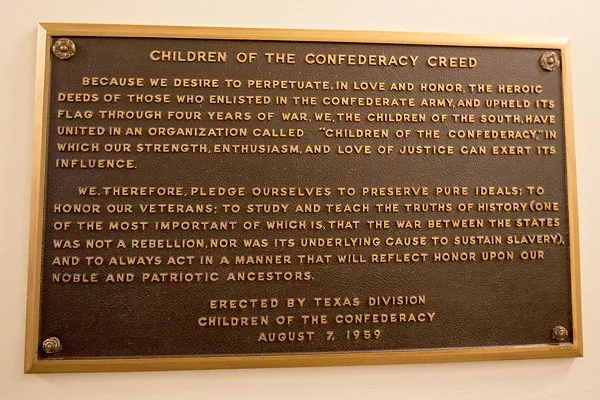 John Jordan / Texas Tribune
Gov. Greg Abbott has finally acknowledged that the underlying cause of the Civil War
may
have been slavery.
On Friday, Abbott met with Democratic state Rep. Eric Johnson to discuss removing a plaque from the hallways of the Texas Capitol praising the ancestors of Confederate soldiers. Installed during the rise of the the Civil Rights movement in 1959 (when the
number of schools named after Confederate leaders
skyrocketed), the "Children of the Confederacy Creed" plaque pledges: "to study and teach the truths of history ... one of the most important of which is that the war between the States was not a rebellion, nor was its underlying cause to sustain slavery." It's a statement most American history scholars
disagree with.

Rep. Johnson has been pushing for the removal of this plaque since August 16, four days after the fatal white nationalist protest in Charlottesville. In September, Johnson got the
backing of House Speaker Joe Straus.
While Abbott first deflected claims that he was receptive to Johnson's removal request, the governor's office clarified his position in a Monday email.
"The Governor said something that most Texans can agree with: substantially inaccurate historical statements are not appropriate for permanent display in the Capitol building," wrote spokeswoman Ciara Matthews. "That's why he asked the State Preservation Board to look into this particular plaque and the history surrounding it."
It implies that Abbott believes the plaque to be "substantially inaccurate" in the way it disregards slavery's role in the Confederate movement.
This shouldn't be a remarkable statement — but in the current upheaval over removing Confederate soldier monuments and memorials, it's somehow become a debatable topic. Just hours after Abbott's office issued its statement, White House Chief of Staff John Kelly
called Robert E. Lee "an honorable man"
in a Fox News interview and said that the Civil War was sparked by "the lack of an ability to compromise."
Don't tell Abbott, but it sounds like Texas leadership has somehow come out on the progressive side of this argument.