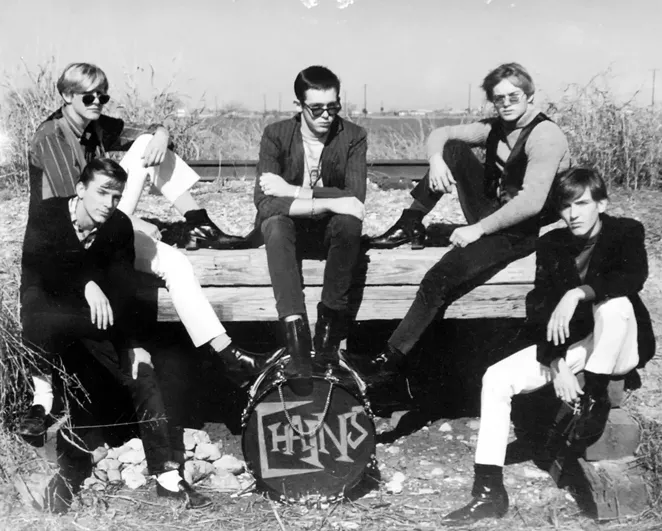 Courtesy of Sam Kinsey Teen Canteen Collection
Believe it or not, San Antonio had a vibrant garage rock scene in the '60s.
Current
readers apparently have a taste for three-chord rock, police accountability and political humor. Not necessarily in that order.
Stories on Countdown City's vibrant '60s garage rock scene, allegations that Fix SAPD volunteers faced harassment as they collected petition signatures and a satirical swipe at Gov. Greg Abbott were among our most-read articles of the week.
If you're looking for the full rundown of what you missed — and others clicked on — here you go.
10.
Wildlife viewing blinds at Phil Hardberger Park combine public art with appreciation of nature
9.
Fix SAPD members says police union set stage for harassment as they campaign for Prop B
8.
City and county now requiring San Antonio-area businesses to post their mask policies
7.
Greg Abbott killed the mask mandate. How else will he enable far-right conspiracy mongers?
6.
Bexar County will offer up to $1,500 for plumbing repairs in new phase of assistance program
5.
Rock band Metallica donates $75,000 to Texas food banks through nonprofit
4.
At urging of San Antonio musician, Velvet Taco adding memorials from local artists at former Tacoland site
3.
Dig This! Unearthing the forgotten magic of San Antonio's '60s garage rock scene
2.
Ted Cruz falsely claims undocumented immigrants are getting $1,400 stimulus checks
1.
The Mendoza Line: Gov. Abbott unveils plan to slow spread of COVID-19 by killing more Texans
Stay on top of San Antonio news and views. Sign up for our Weekly Headlines Newsletter.