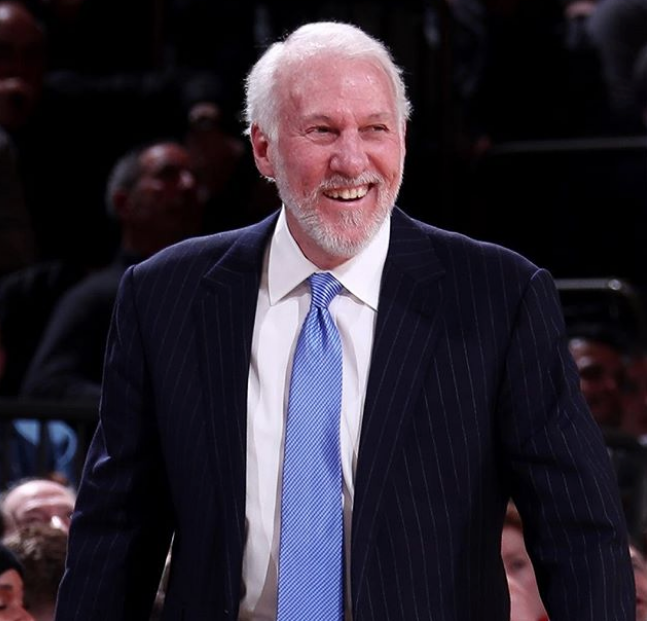 Spurs head coach Gregg Popovich had a big night with Wednesday's season opener.
The 2019-2020 season marks Pop's 24th season with the Spurs, a
record for the longest coaching tenure
with the same team — not just within the NBA, but also in the NFL, NHL and MLB, according to reports.
Yeah, that's a big deal across the world of sports.
So what's his secret?
"Wine," Popovich
told reporters
with a sly smile.
The beginning of the history-making season was made even better by the Silver & Black's 120-111 win over the New York Knicks. Though frequent turnovers made for a rocky game, a strong fourth quarter led the team to victory.
That win may have been even sweeter since it was against the Knicks, the team that Marcus Morris ultimately
signed a one-year deal
with after first committing verbally to the Spurs. The Spurs had only traded fan favorite Davis Bertans to the Washington Wizards and restructured DeMarre Carrol's contract to
welcome Morris to San Antonio
.
Ahead of the game, Popovich threw a bit of shade at Morris and the Knicks.
Reporter: Did the Knicks act unprofessionally with Marcus Morris situation.

Popovich: "Who signed him?"

Reporter: The Knicks.

Popovich: "There you go."

— Stefan Bondy (@SBondyNYDN) October 23, 2019
Long live Coach Pop.
Stay on top of San Antonio news and views. Sign up for our Weekly Headlines Newsletter.