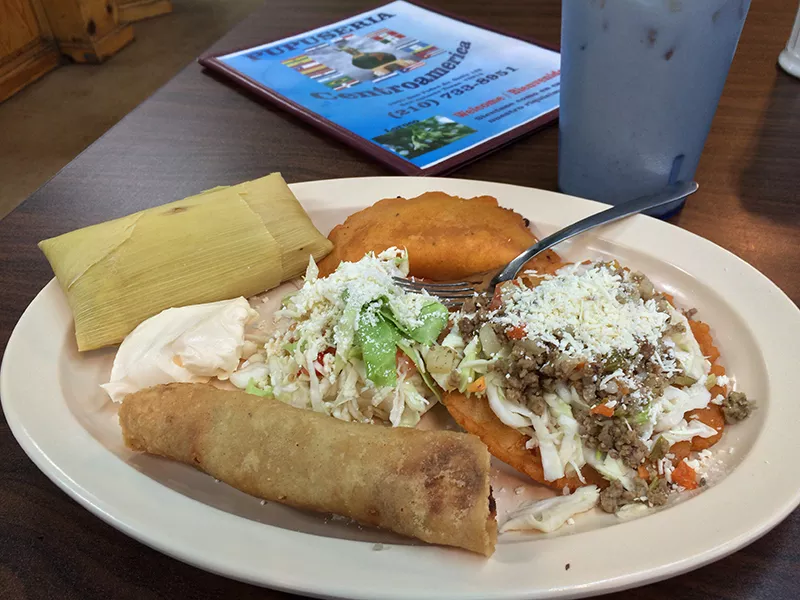 Jessica Elizarraras
Try the mango plate for its variety.
After two years of living less than a mile away from Tienda Centro America, constantly driving by wondering why the place was stacked with more than a dozen cars on a daily basis, I finally decided to stop in.
What secret were these folks in on?
I had to find out what I had been missing. So, when I checked it out last week, once again the joint was hopping and I ended up having to park on a side street. And there's a lot to take in even before you go inside. Signage clutters the entrance promising pupusa specials, stacked plates and Sigue signs for money wiring services to Mexico, Central and South America and the Caribbean.
Once inside, the space is broken into three areas. Fresh produce, frozen products and colorful snacks are packed into one area, while the restaurant and kitchen part of Tienda Centro America takes up the most square footage in the next room over with more than a dozen table tops. Toiletries and more snacks make up the rest of the dining room as suspect fútbol jerseys hang from the exposed ceiling. There's definitely plenty to keep you entertained, but try to focus on the menu.
Bright, blue and encased in the familiar plastic protector, the menu is hard to navigate for those unfamiliar with food from El Salvador, though some menu items like the daily specials, usually $6.99, came accompanied by photos of the plates. It's also entirely en español, but again, the photos help. Thankfully, the service staff was agreeable and didn't roll their eyes at my ridiculous questions.
For instance, what in the heck is Loroco? Fans of squash blossoms and other edible flowers would likely enjoy the pupusa de maiz with queso and loroco, a green herby vine. I actually could have used more of it in my first pupusa. On the subject of pupusas, which I liken to Mexican gorditas, the eatery served them up in either rice flour or maiz and filled with either the aforementioned mix, chicharron, frijoles, jalapeño and cheese or a mix. An open kitchen revealed several women, effortlessly cranking out tortillas and pupusas, assembly-line style.
According to our cashier, the restaurant was added on within the last two years as a way to draw more souls into the store. And it's worked, as the place buzzed during lunch, with families, blue collar workers and chicas working their way through plates of pupusas, oregano-laced and vinegary coleslaw salad and steamed rice.
The tamal de elote gave me a newfound appreciation for sour cream, or rather crema Salvadoreña, which has a creamier mouthfeel than our tangy iteration. I'll be back sooner rather than later, to take in the fried plantain-filled desayuno that pair pupusas and, in an effort to satiate regional bellies, even huevo a la Mexicana. There's still a whole back page of tamales to explore along with a cena Hondureña that's calling my name.
Patrons pay at the main counter and it's tempting to check out with several bags of fried plaintains and bags of pan dulce. I did and I've got snacks for the week, so happy camper here.
Tienda Centro America
3905 San Pedro Ave., 733-8951, facebook.com/tiendacentroamerica