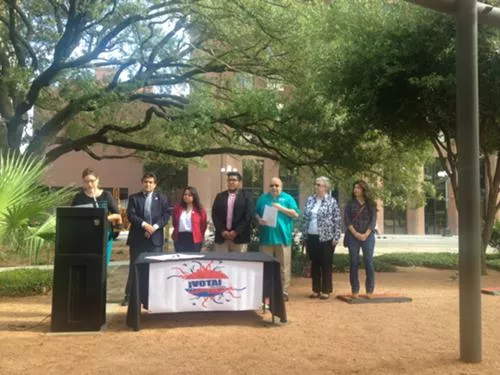 Photo by Alexa Garcia-Ditta
A coalition of Latino advocacy and civic organizations are coming together this election season to mobilize the Latino electorate, register tens of thousands of eligible voters and increase turnout among Latinos.
"We have one message: to make our voices heard," said Ben Monterosso, executive director of the Mi Familia Vota Education Fund. Texas Latino voters are often called "a sleeping giant," he told a small crowd outside San Antonio City (Hall or Chambers?) Thursday. "That giant is awake and cranky, and we're ready to go to the ballot box," he said.
Among the groups participating in the citywide Vota San Antonio campaign are Mi Familia Vota; the National Council for La Raza; National Association of Latino Elected and Appointed Officials Education Fund; Texas Organizing Project; League of Women Voters; League of United Latin American Citizens; MOVE SA (Mobilize, Organize, Vote, Empower San Antonio); and the Cesar Chavez Legacy and Educational Foundation. The groups are reaching out to low-propensity Latino voters in San Antonio ahead of this year's midterm elections.
According to Mi Familia Vota, there are more than 4.3 million Latino citizen of voting age in Texas and just under 3 million are registered, making up 23 percent of Texas' registered voters.
"Electing the state governor, lieutenant governor, state legislators and state board of education members—those individuals have a lot of power in Texas," said Sonia Troche, the Texas regional director of the NCLR. "They make decisions that affect our everyday lives ... We have to ensure that Latinos have a place at the ballot box."
Issues like public education and good schools, health care, housing and immigration are at the forefront for Latino voters, Troche said.
Lawrence Cital, a student-turned-operations director for the youth engagement organization MOVE SA, said he and his peers are tired of being left out of the democratic process. Millennials want and deserve to be paid attention to, he said.
"We're hoping to get our elected officials to realize that young people are a large part of the electorate in Texas," he said. "They can change elections and change policy, they just need to be mobilized."
The campaign will be hosting voter registration days and phone banks leading up to the Oct. 6 registration deadline.