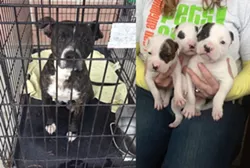 Want to Foster now?  Sara and her pups need a loving foster home to grow up in. She will do all the work for her 4 week old puppies. She is a calm and sweet dog but like any mother she is very protective of her puppies and needs to be kept completely separated from any other family pets. If you can provide a warm secluded area for Sarah to care for her pups and plenty of food and water for the nursing mama please email SAPA!  placement@sanantoniopetsalive.org and reference their ID# 243844-47.
Want to Volunteer?
We are currently looking for volunteers to feed and care for newborn kittens a few hours a week at our Cattery. The Volunteer workshop is March 16, 2013 at 1pm, to RSVP email kittennursery@sanantoniopetsalive.org
Want to Adopt? Our kennels in Building 1 at 4710 Hwy 151 ARE FULL so we have special adoption pricing this weekend 3/8-3/11 of $20 which includes Spay/Neuter, vaccinations, microchip, bag of dog food/treats/toy and a collar!
Join the SAPA! Solution! We are 6000+ Lives Closer to No Kill SA!
At San Antonio Pets Alive! our goal is to save adoptable pets from euthanasia. Due to the rules/space of kill shelters, mothers with newborn puppies or kittens and orphaned babies are the first to be euthanized.  We have saved many of these little families and we are asking the community to join over 500 local SAPA! foster families in saving MORE lives. Puppies and kittens are born year round, especially in San Antonio's warmer climate but the winter and spring bring an influx of newborns that is overwhelming to rescue groups like ours. Puppy season starts in December with babies being born at a much higher rate through April. Kitten births rise in March and are at their highest rate in April and May. To continue on our city's path toward becoming the Largest No Kill city in the US we need YOU!
SAPA! opened its initial 70 kennel facility in Building #1 at the Animal Care Services in January 2012 and we have learned a lot in our first year. We have a dedicated foster support team that will help you care for and raise your foster pets until they are ready for adoption.  We have adoption events around the city you can attend and we have MAD foster marketing skills.
Everyone can help! Foster. Adopt. Volunteer & Donate
Learn about: our Foster Program and Volunteer Program and Donate
Want to foster newborn puppies? Email fosterbabies@sanantoniopetsalive.org
Foster Newborn kittens? email kittenfoster@sanantoniopetsalive.org
Thank you for supporting SAPA! We are 6000+ Lives Closer to No Kill SA!