Our goal at San Antonio Pets Alive! is to save homeless yet adoptable pets from needless euthanasia. We pull dogs and cats directly off of the city's euthanasia list EVERYDAY. Our kennels are FULL of loving and wonderful pets who want nothing more than a home and people to LOVE. Another aspect of our rescue that sets us apart from the rest is we do not turn away an animal because of illness. We have cared for broken limbs, parvo, tick born diseases, distemper, mange and NUMEROUS other ailments that usually confirm a death sentence to an unfortunate cat or dog.
Employee Spotlight – Gabby with Bacon, this week's Medical Spotlight
We want to introduce you to SAPA! VIP, Gabby Keresi-Uresti, our Medical Clinic Manager. She keeps our Dog Facility at the Animal Care Services campus and our Parvo Ward at the Marbach facility healing the sick and innocent. A native of Chicago, IL, Gabby studied Social Studies at UTSA and found her calling eight years ago in rescue after watching a documentary on the journey of a homeless dog and cat through the shelter system. Gabby met and married Carlos A. Uresti, Jr. in 2008 while they both worked as Vet techs for Animal Care Services. When not vaccinating, treating and caring for SAPA! rescues and educating our staff, foster and adopters on best practices of pet ownership, Gabby enjoys a house full of personal and foster dogs- including Dallas, Prince and Drama.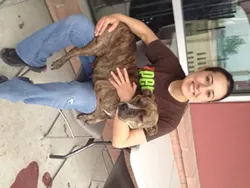 Gabby is holding our Medical Spotlight, BACON!  Bacon needs a foster or adopter that will love and cherish this beautiful brindle girl! She has 2 broken legs, one back leg which is an old injury and one front leg. She tolerates everything and doesn't even care her legs are broken. She is super sweet and loves everyone, including other dogs! She needs a comfy couch to rest and healing for the next 4-6 weeks in a foster home or better yet a comfy and loving forever home!  If you decide to foster, adopt or volunteer for SAPA!, you will be sure to see Gabby and her staff taking care of business.
Come on down and meet Bacon, or one of our wonderful Spotlight Dogs pictured below located at our Dog Facility Location and Hours Here http://www.sanantoniopetsalive.org/contact-us/ Or Email:  adopt@sanantoniopetsalive,org   
Big Dog Spotlight – Meet SCRIBBLES! A Two Yr Neutered, Cattle Dog Blend #203866 – Special $15 Adoption Fee!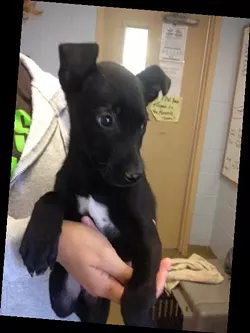 Small Dog Spotlight – LUPE!  Two Month Old Female, Lab Blend #246174 Special $25 Adoption Fee!
Cat Spotlight – Lexxie!
 Lexxie is a 3-4 years old big beautiful girl who would like to be the queen of her household. She is tolerant of other animals, but prefers to rule the roost on her own. She is probably best in a home with out little kids, as their excitement can be a little much for her. She's likes the nice, laid back, cuddly kinda love. Lexxie is a polydactyl aka 'Hemingway Cat'. She has 6-7 toes on each paw. These cats are considered to be good luck! For information on Adopting me go to http://www.sanantoniopetsalive.org/adopt/cats/cat-of-the-week
SAPA! Events  Check out SAPA! Upcoming Events at http://www.sanantoniopetsalive.org/events.
In preparation for FIESTA 2013, SAPA! is unveiling their fundraising medal at Trilogy Bistro in Stone Oak http://www.trilogybistro.com/!  This Wednesday, March 27th. Trilogy will donate 15% of the bill when you mention SAPA! From 4-9pm and the new Fiesta Medal design will be revealed!
Take Action!  Everyone can help SAPA! save lives. Foster, Adopt, Volunteer. Donate. We are 6000+ Lives Closer to No Kill SA!
Save LIVES with a click!  When you LIKE & SHARE at www.facebook/sapetsalive.org *You literally help save LIVES!*