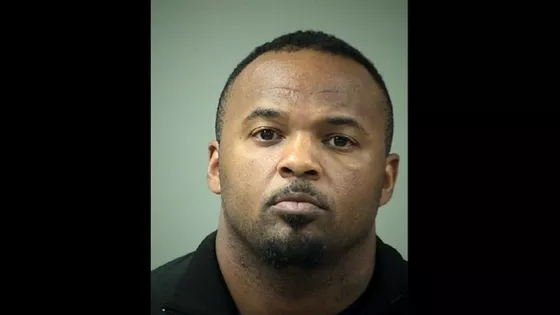 The gym owner who allegedly ignited the May 18 fire at Ingram Square Shopping Center — a blaze that killed one San Antonio firefighter and injured two others — was indicted on five felony charges by a Bexar County grand jury.
The Tuesday indictment, charges Emond Johnson, 39, of murder, arson resulting in death, arson of a building, and two charges of arson and bodily injury.
Johnson owned the Spartan Box Gym, one of the businesses torched in the fire. According to police arrest documents,
Johnson said he had intentionally set his gym
on fire in an attempt to get out
paying the $7,000 he owed on his lease.

Surveillance video taken the day of the fire allegedly shows Johnson starting the fire with a cigarette lighter around 9 p.m. on May 18.
The District Attorney's office agrees. "After eliminating any natural or accidental cause of the fire, investigators determined that this fire was intentionally set," reads a DA press release.
The fire, which spread to neighboring businesses, resulted in the
death of firefighter Scott Deem
and the injury of two other firefighters. Deem was the first San Antonio firefighter to die in the line of duty in 20 years.
Johnson was
arrested on October 4
. If convicted, he could face life in prison and up to a $40,000 fine. The trial date has yet to be set.
"I hope this will follow [Johnson] throughout the rest of his life," said San Antonio Fire Chief Charles Hood at a press conference following Johnson's arrest. "He killed an extremely fine young man with a beautiful family that will never be the same."