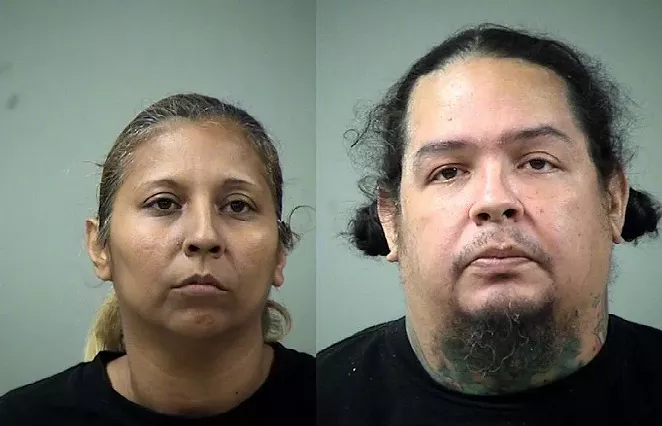 Bexar County Sheriff's Office
Belinda Garza and Richard Castillo are accused of lacing candy with drugs. The Bexar County Sheriff and San Antonio Police Departments arrested the duo on Halloween.
A pair of Alamo City alleged pot-candy enthusiasts were arrested at a tattoo parlor on Halloween.
Authorities with the Bexar County Sheriff's Department arrested Belinda Garza and Richard Castillo Friday on the 1400 block of Southwest Military based on a warrant obtained by the San Antonio Police Department.
SAPD Spokesman Douglas Greene said in mid-October, police raided the duo's house based off of a search warrant. The police were looking for a large amount of marijuana that they didn't find, Greene said, explaining that detectives did find candy molds as well as some sweet treats, which were sent off to various labs for testing.
Those results came back and Garza and Castillo are accused of lacing candy with THC.
And because the candy was laced with THC, Garza and Castillo are charged with possession of a controlled substance. A conviction carries harsher penalties because the penal code classifies it with more dangerous drugs. The penalty range is a minimum of 180 days and up to life, so we'll keep on eye on this case to see how it plays out.
However, Greene readily admitted there are no indications that Garza and Castillo were selling THC-infused candy to children.
"We can't prove if intent was to sell to kids, or what intent was. But definitely, candy is enticing to children," Greene said. "We recommend parents be vigilant."
Authorities are using the arrest to remind parents and guardians to check candy before letting the kiddos devour those sweat treats. Parents should make sure all candy is commercially sealed, not tampered with and are urged to throw away any treats they think are suspicious, Greene said.