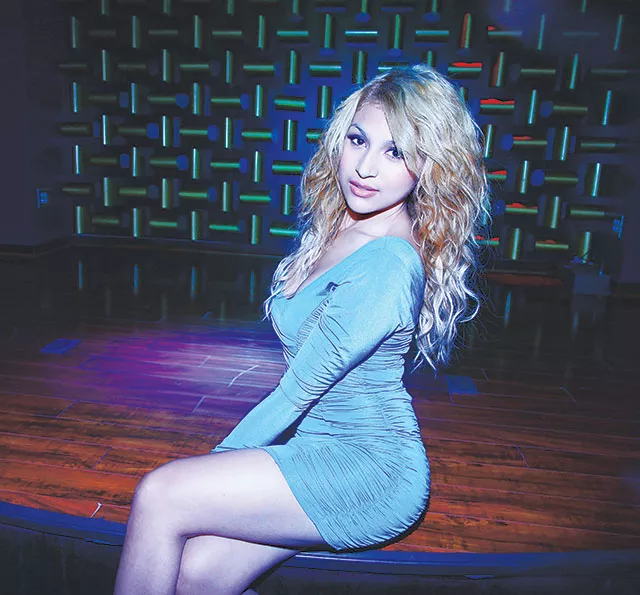 ESSENTIALS210
Blue heaven: Halo "angel" Paula Deanda sits pretty at the club's grand opening
The ownership of Halo, a club that celebrated their grand opening last weekend, tells you everything you need to know. It's pretty much exactly what you'd expect if two self-proclaimed "famed French restaurateurs," a plastic surgeon, and the owners of a valet parking service decided to create a Stone Oak utopia by way of ultra lounge.
Halo takes the place of the thanks-for-trying posh gay club Creed in a smallish suite in the Stone Oak Plaza, next door to Drew's American Grill. Upon entering the lounge last weekend, female patrons were given tickets to win three free botox injections. Nothing makes a girl feel sexier (or more in need of a drink) than the tacit suggestion that she could use a little work.
Once inside, my furrowed brow and I rushed past the fuchsia walls, dance floor, and cushy banquettes to the lone bar. Patient and helpful bartenders, even on a bustling late Friday night, steered me to the Black Halo Tea ($8), made with a sweet tea vodka and black tea, among other ingredients, which gave me a pleasant caffeine buzz. My date ordered a reasonably priced Stella Artois, meaning that he couldn't find the craft beers he typically prefers, but at least there was an effort to step slightly outside of the norm, brew-wise.
Champagne fans have their pick of a house cava (Jaume Serra Cristallino, $7), prosecco ($8), or Moët ($14) by the glass. There's also some fun champagne cocktails and the obligatory Doms and Cristals for bottle service ($320-$350). Nearly 20 specialty cocktails round out the menu. Unsurprisingly, since the "famed French restaurateurs" are Frederick and Emannuelle LeBorg, creators of the Coco club and restaurant complex in Legacy Center, many specialties have a chocolate element, like the Bliss martini ($8.50) with 360 vodka, white and dark chocolate liquors, coconut cream, and toasted coconut.
In case you hadn't guessed already, this is a female-centered establishment. And if you build it, even way out in Stone Oak — especially way out in Stone Oak — they will come. Wannabe angels traipsed in with heaven-reaching heels and skirts cut so high you could see their, ahem, halos. Many of these well-maintained celestial bodies had possibly availed themselves of the plastic surgery services offered by co-owner Dr. Thomas T. Jeneby and his colleagues. Dapper-looking dudes stood ready to pay tribute via Sonterra-tinis, Aphrodisiac Margaritas, or maybe bottle service in the HaloHeaven, HaloEarth, and HaloPearl VIP sections. If they can't find a real life angel, guys can always take pleasure in the multiple screens featuring swimsuit runway shows from 2011.
The average age of patrons, refreshingly, was more 35 than 25, though it skewed younger as the night wore on. The crowd was similarly refreshing in its diversity. Halo seemed especially popular with well-heeled lesbian couples, though a glamorous bachelorette party and a clutch of suave black men enjoyed the night, as well. Since it's a small club and none of the VIP sections are particularly roped off (they just ring a stage left over from Creed's drag show days), there was more mingling than you might see at a bigger, multi-level affair.
Julio Deejay (Julio Monterroso), guesting for the grand opening, played a frantic video mix of pop, hip-hop, dance, and R&B that started to slowly interest the club-goers. In fact, the highlight of our night was his mash-up of Michael Jackson's "Billie Jean" and Justin Timberlake's "Suit & Tie." The one-room layout and loud music meant conversation was light, though there is a small, non-descript outdoor patio.
Because we faced a 25-minute drive home, back down to Earth via I-10, we cut short our night before I could revel in another chocolate-covered martini or surreptitiously game the botox pool in my favor, but the dance floor was just heating up.
While it's not everyone's idea of heaven, Halo achieves a swank atmosphere without overbearing exclusivity, perhaps in spite of itself. If you're a Stone Oak-dweller and a clubber past the age of Justin Bieber fandom, put this on your short list.
Halo Lounge and Club
6pm-2am Wed-Sat (Wed is teen night)
18730 Stone Oak Pkwy, Ste. 108
(210) 233-6249
facebook.com/haloloungeSA