Erin Winch
The beginning of the Carajillo
When venturing outside of the Loop 410 area, you rarely find a beautiful craft cocktail bar that sports excellent happy hour deals. Next time you find yourself outside the loop, have no fear, you no longer have to drive miles to find a great drink at a decent price. Edison Experiment, located off of Loop 1604 and Huebner Road, is serving great craft cocktails for only $6 during their happy hour.

The special pricing on is available daily from 5 to 9 p.m. and all day on Thursday. There are six different drink options and one craft shot that they offer for happy hour pricing. The drinks themselves range from classics like Old Fashioned and Cucumber Martinis to Edison creations like the Pumpkin Master and the Indian Paintbrush.
The Pumpkin Master was the house special that I chose for my visit. It is a drink containing bourbon, orange bitters, and a house made pumpkin syrup. The drink was a great addition to their fall menu that was released on Saturday as it was a strong whiskey drink, perfect for colder months,
yet it still had the fall notes with pumpkin syrup. The orange bitters really
tied the drink together. The syrup that is used in the drink is included in A Little Slice, which was the shot they offer during happy hour.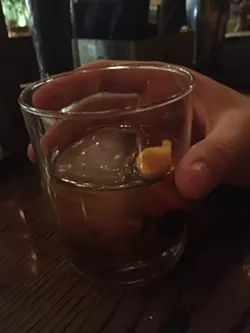 If none of the options on the happy hour menu pique your interest, you can always order one of the cocktails off the menu, which range from $7 to $11. These might be worth the order too, as Edison pulls out all the stops. They offer a smoked Old Fashioned, where smoking a piece of wood is involved in the drink creation, and Carajillo, an espresso drink they jazz up by lighting Licor 43 on fire.
Edison's recently added charcuterie boards to their menu, so if you get peckish, you can always order one to silence your hunger. The boards aren't included with happy hour prices, but with the amount you'll be saving on drinks, you could reason ordering it. Either way, a trip to Edison is well-worth it, and stopping in during happy hour can save you a few bucks, though with the great ambiance and drinks, you'll end up staying well past when the specials end.

1846 N. Loop 1604 W., (210) 479-9600.
For more follow Erin on
Instagram