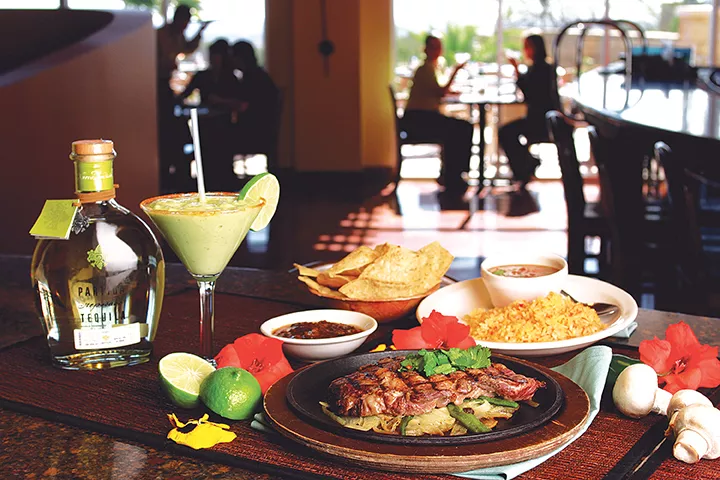 Courtesy
Go for the drinks, but load up on post-happy hour food.
While venturing out past The Rim, you may think to yourself: "I wish there were more Mexican restaurants out here." Hidden off I-10 and past Camp Bullis, Aldaco's at the Dominion is probably not where you'd expect to see an authentic Mexican eatery. It offers a decent selection of ways to get your drink on earlier than you probably should (though we're not ones to judge) with a long list of impressive happy hour drink specials.
Aldaco's at the Dominion keeps happy hour going from 2pm to 6 p.m, Monday through Friday. So if you're like me and work 9-5 during the week, it can be hard to get there in time. Extending happy hour to 7 would make traveling there infinitely more appealing and might make it easier to convince others to check it out.
Aldaco's offers enough variety to justify an expedition past La Cantera. I arrived on a Thursday at 4 p.m. and was overwhelmed by myriad options. Micheladas for $4, numerous $5 margaritas and $3 longnecks were more than enough to get started. Thankfully, I wasn't alone so I didn't have to worry about trying all of the different margaritas offered.
I started with the MPO margarita, which was a little too strong as a starter drink. The tequila was prominent, so if you want to taste less of the actual liquor, the MPO may not be where you want to begin your night. Next up was the prickly pear margarita, a refreshing break from my previous drink. Much sweeter, it was designed for a hot summer day and paired well with Aldaco's sprawling patio. The avocado margarita stands out with a distinct flavor. This creamy drink was less sweet than the prickly pear, though it still felt more like a dessert than the MPO. It's an acquired taste that isn't for everyone, but avocados are healthy so you're basically drinking a smoothie, right?
The standout during my visit was the michelada – stronger and spicier than I had expected. Matching my michelada with a Modelo, this $4 drink is one of the better options during Aldaco's happy hour. It certainly has the most kick to it, an aggressive wake-me-up after a tiring day at the office.
If you're looking for specials on a late lunch or early dinner, Aldaco's would be a bad choice. The happy hour food specials are limited to $1 al pastor or crispy mini-tacos. The mini-tacos were passable — certainly not bad — but not worth the drive out to the Dominion on their own.
Expect an older, wealthy crowd to populate the restaurant, but the location itself is spacious, the staff is nice and the drink specials are hard to beat if you're looking for a cold marg and a great patio to escape the summer heat.
Aldaco's Mexican Cuisine
22211 I-10 Frontage Rd., (210) 698-9700, aldacosrestaurants.com