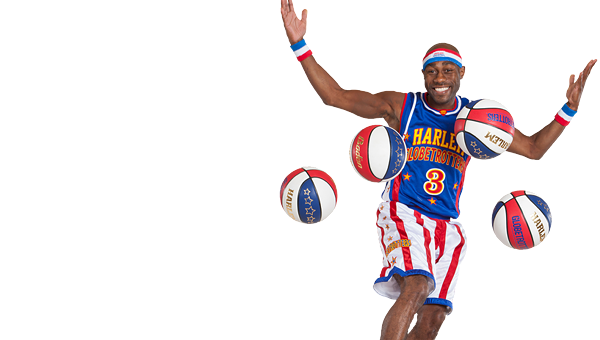 After the current NBA Champion Golden State Warriors signed All-Star center Boogie Cousins last week, the high-energy, trick-shot shooting exhibition basketball team the Harlem Globetrotters trolled the Dubs when they tweeted that it would have to be up to them to dethrone the super team next season.
While basketball fans will, unfortunately, never get a chance to see Steph Curry go head-to-head with Porter "Primetime" Maberry, San Antonians will get the opportunity to whistle a little "Sweet Georgia Brown" when the Globetrotters glide into town for their Amazing Feats of Basketball World Tour to show off their unique brand of B-ball entertainment. Founded in 1926 (the NBA was formed in 1946), the Globetrotters have performed for more than 146 million fans in 123 countries and territories worldwide.
In 1950, Globetrotter Nathaniel "Sweetwater" Clifton became the first black player to sign an NBA contract. Since the team is known for making history over the last 92 years, maybe the Spurs can get them to take Kawhi Leonard and Uncle Dennis off their hands in exchange for a couple of Washington Generals and one of those neat tri-colored balls.
$23.50-$135.50, Sat July 14, 2pm, AT&T Center, One AT&T Center Pkwy., (210) 444-5140, attcenter.com.

Get our top picks for the best events in San Antonio every Thursday morning. Sign up for our Events Newsletter.