McGowen and her partner Ian Shader live in Aransas Pass with their two young boys and a small dog — but since Thursday, they've been holed up in Abraham Kazen Middle School in San Antonio's south side (one of the city's two emergency shelter locations). McGowen's lost her cell phone, but said that the last time she heard from her elderly uncle, who decided to ride out Hurricane Harvey in Aransas Pass, her family's home had been leveled.
That was Friday. She hasn't heard from her uncle since — he lives alone in the coastal town and relies on an oxygen tank. "The only way he'd get out of that house in a hurry is if someone was carrying him," Shader said, shaking his head.
Another family member who came with them to San Antonio had to relocate to a hospital after seeing the effect Harvey had on his town. He's a military veteran with Post-Traumatic Stress Disorder, but left his service dog at home in the flurry to get out of town. McGowen said he plummeted into a deep, suicidal depression after realizing his dog may not have survived the storm. "He's not just a dog to him, he's his closest companion," she said.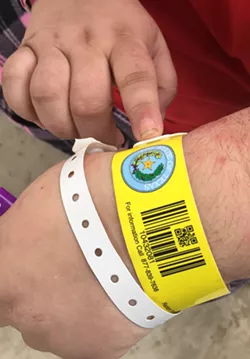 Alex Zielinski
McGowan points to the wristband given to all evacuees. The band contains a tracking chip to help others find family members or friends.
McGowen and Shader, like many of the nearly 1,000 evacuees sheltered in San Antonio, don't own a car. If they hadn't gotten on one of the free buses headed north Thursday, they may have been stuck in their now-crumpled house. A Rockport man smoking a cigarette outside the middle school Sunday said his truck had
just
broken down the week before.
"I'd probably be dead right now if I didn't leave," he told the
Current
. He asked his identity remain private.
Inside the school, American Red Cross volunteers and city staff check families in and give them a run-down on what's available: Showers, sleeping cots, food, blankets, a medical clinic. Carol Schlesinger, a spokesperson for Metro Health said many people showed up to the shelters without their medications.
"We've got doctors helping people fill prescriptions and access any urgent care they may need," she said. "We also have a ton of band-aids."
More than 700 people who were hospitalized in coastal facilities before the storm hit were transferred to San Antonio when their hospitals lost power, said Schliesinger.. She's unsure how many more people San Antonio's expected to take in this weekend.
It's one of many questions left unanswered in Harvey's wake.
No one's certain how long they'll be staying in San Antonio, or when the buses will truck them back home, or how long their kids will be out of school. Many are still trying to get in touch with relatives also displaced by the storm.
McGowen, who hasn't been able to sleep well in shelter's "sardine-can" room of cots, said she's only cried once since leaving the coast. She doesn't want her kids to see her worried. But she and Shader have no idea what they'll do next.
"Right now, we're thinking about just staying in San Antonio," Shader said. "There's not much left for us back there."