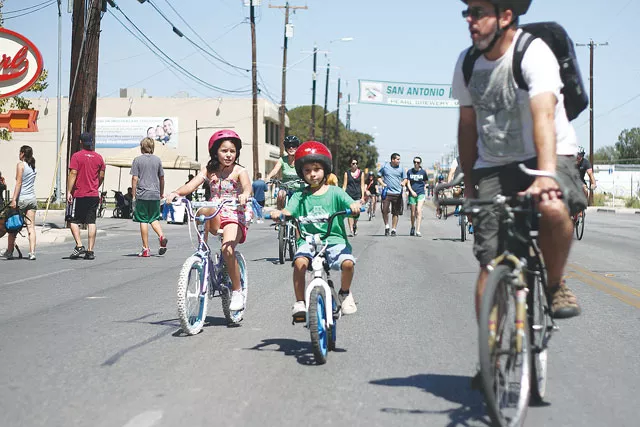 Young riders at Síclovía, Sunday, October 3, 2011.
If you love bicycling and are passionate about alternative transportation you've got a two-wheeled ticket to celebrate two decades of the Alamo Area Metropolitan Planning Organization's Walk & Roll Rally day.
Since 2005 — in support of National Bike Month — the organization has promoted the health-conscious mode of transportation through the rally for bicyclists and the public alike to learn more about not only pedaling, but walking as well, through the Greater San Antonio Region.
The rally kicks off tomorrow morning from 8 to 9 a.m. at Main Plaza (115 Main Plaza) in Downtown. Luckily, you don't have to deal with parking because VIA Metropolitan Transit, which has partnered with the Alamo Area MPO since 2005 on the Walk & Roll Rally, is offering free rides to anyone with a bike on Friday.
"VIA helps to make the connection between the first mile and last mile of travel for thousands of riders — cyclists, pedestrians and motorists — all sharing roads and sidewalks daily," VIA President and CEO Jeff Arndt said. "We congratulate the Alamo Area MPO on the 20th anniversary of the rally, and appreciate their continued commitment to moving our region forward."
The rally kicks of a full-month of activities.
However, there's still a lot to be done to promote bicycling and walking in San Antonio. According to the
Alliance for Walking & Biking
's 2016
Benchmarking Report,
San Antonio
ranks 42 out of 50 of the country's largest city's where people bike to work and 40 out of 50 for walking to work.
Nevertheless, San Antonio continues to improve its efforts to promote bicycling, walking and alternative forms of transportation in Bexar County.