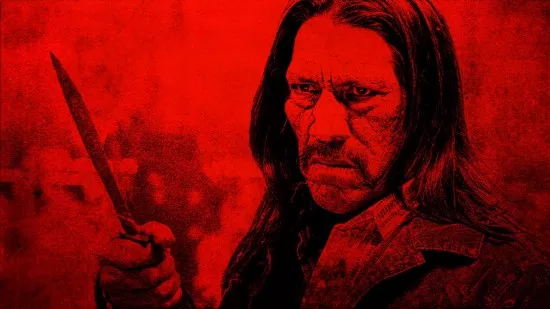 I spent last night watching people get their heads chopped off, their stomachs sliced open, their arms nailed to wooden planks, and their intestines pulled from their stomachs and used as rope. 
Such was the context of the blood and gore-ridden Machete, a movie that juxtaposes the politically charged immigration debate with the possibility of Mexican uprising within the states (among other things).  Machete, played by the cinematically infamous Danny Trejo, is an ex-federale living illegally and working as a day laborer in Austin, Texas.  Here, he is asked to kill a politician by the name of McLaughlin (De Niro), whose campaign focuses on keeping the "parasites" out of the United States by way of an electric fence and work with vigilante groups on the border itself. 
I couldn't help but realize how timely the movie is in the wake of SB 1070 and politicians like Arizona Governor Jan Brewer, a woman who was recently quoted saying, "I have really did the best that anyone could do," in regards to her first 600 days in office.  It seems she's spent so much time worrying about keeping illegal immigrants out of Arizona that good grammar went out the window along with her sanity.
But is Machete a promise or a threat?  In the final battle scene, depicting the ultimate showdown between illegal immigrants (and their supporters, also known as "The Network") and the Anglo mafia primarily concentrated with politicians and the peons that feed their egos, we see what a Mexican revolution here could look like.  Arriving in a caravan of lowriders, the immigrants wield knives, guns, gardening tools, and paletas.  Yes, I said paletas.  The scene is epic in nature and reminscent of what the Mexican War of Independence may have felt like in 2010. 
Will we see a similar war in Arizona?  Unlikely.  But it felt damn good to see my gente using gardening tools to declare war on a system that capitalizes on their cheap labor but won't allow them their citizenship.