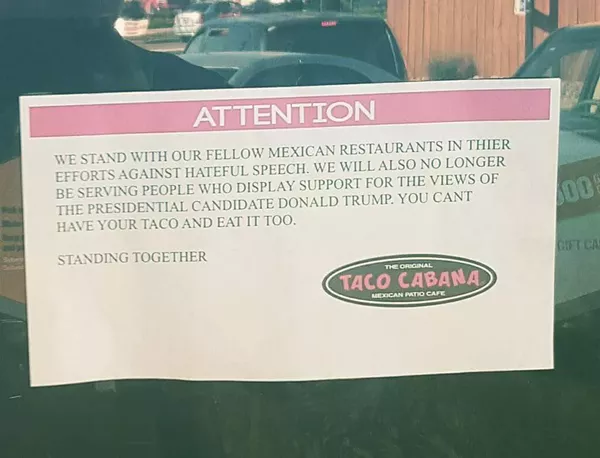 Editor's note:
Story updated to include comment from Taco Cabana.
At least two fake signs purporting to ban Donald Trump from Mexican restaurants in San Antonio popped up over the weekend.
Circulating widely on social media, one sign, riddled with grammar errors, says Trump supporters cannot "HAVE YOUR TACO AND EAT IT TOO" at Taco Cabana. This is likely fake.
Taco Cabana COO Todd Coerver says the signs are unauthorized.
"Taco Cabana's first priority is to ensure our guests feel welcome to enjoy great tacos. Taco Cabana is not responsible for the placement of this unauthorized sign on our property," Coerver says in a statement. "Other local restaurants in the San Antonio area have also been targeted. The sign has only appeared in one of our restaurants and we promptly removed the sign and have alerted all restaurants to remove any unauthorized signage."
Another was found at Mama Margie's, which is definitely fake. Mama Margie's said so.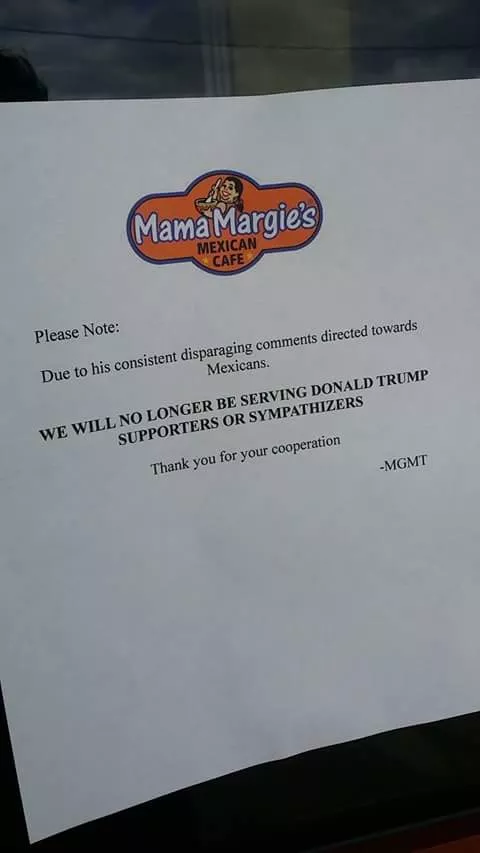 You may remember when
Trump called Mexican and Central American immigrants drug users, rapists and criminals
.
If you see any more of these signs, send them over to mreagan@sacurrent.com so we can update this blog.