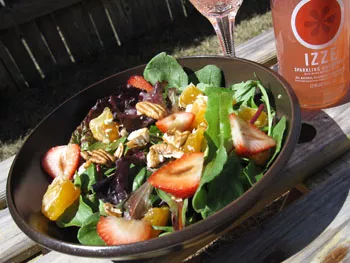 So we're a few weeks in on those new years resolutions now and I can only speculate as to how many of us have our list topped with "Eat healthier in 2011!" So I pose the question ... are you sick of salads yet?
Over time, I find even the best salads get monotonous. As the days wear on, as much as you know it's good for you, there's just no excitement in seeing it anymore.
Staleness is the first ingredient in a recipe of failure and abandonment. The key to life, after all, is to keep things interesting. It's simple human nature.
So what do we do from here? Change things up a bit. We start out with the bare bones — a nice heaping bowl of leafy greens, lettuce and spinach being the common players. But from there the door opens to reveal the most varied options: fresh or dried fruit, toasted nuts, crumbles of cheese, grilled meats, etc. But the salad's true flavor, what gives it variety and brings it all together simultaneously, what intrigues us, is its crowning glory — the dressing.
I have a few favorites I make at home and rotate through, enjoying one as long as I can and moving on to the next once I lose interest. You could call me a salad-dressing slut, I suppose.
The first is a vinaigrette, and my approximation of the house dressing from an eccentric downtown cafe in Colorado. This is my chameleon of dressings, working with both sweet and savory flavors. Try it on a Greek salad of romaine lettuce, sliced cucumber, chick peas, avocado, and feta cheese, or you could easily add a fruity twist and top it with orange or grapefruit chunks, toasted pecans, and dried cranberries.
Balsamic Vinaigrette
1 cup vegetable oil
2 tablespoons balsamic vinegar
1 tablespoon honey
1 tablespoon soy sauce
2 teaspoons dried basil
2 cloves crushed garlic
½ teaspoon sea salt
½ teaspoon crushed black pepper
Combine all ingredients and mix well. Better the next day, so make this one ahead of time and give it a good shake before serving. Next is inspired from a popular Texas dive. Use this cashew tamari dressing on lettuce with sliced raw carrots and celery for incredible crunch — this also exercises the jaw muscles which burns more calories. Top with grilled chicken and you've got the makings of a great meal.
Cashew Tamari Dressing
1 cup vegetable oil
½ cup cashews, chopped into small pieces
2 tablespoons Hoisin sauce
2 tablespoons tamari
1 tablespoon sesame seed oil
Mix all ingredients well with a whisk, or in the blender if you're feeling lazy and enjoy cleaning the blender. Using the whisk, like eating crunchy vegetables, also burns more calories, so use your damn arms, people!
And here is my most recent (but soon to be phased out) favorite — the Asian dressing. I like to use fresh or wilted (lightly steamed for you beginner salad chefs) spinach topped with grilled fish (salmon or tilapia being my favs). Pour this dressing all over and enjoy it, day after day, until your bottle is empty. Wrap yourself in its familiarity as it gets better over time. And when the romance is over, move on. No hard feelings ... I mean we are talking about salad dressing here, right?
Asian Dressing
1 cup vegetable oil
½ cup rice vinegar
2 tablespoons soy sauce
3 teaspoons sugar (or more, not everyone likes it the same way)
1 clove crushed garlic
2 tsp finely chopped fresh ginger
Combine, mix and wait a day.
Very important final thoughts: Make these ahead of time. It takes at least a day for all the flavors to be extracted from the herbs, garlic, etc. Store in the refrigerator, if you couldn't guess. I keep mine in a glass bottle. Olive oil is great, but it will thicken up in the fridge. You'll just need to take it out a while before serving to bring it to room temperature, shake the hell out of it, and get ready to munch.