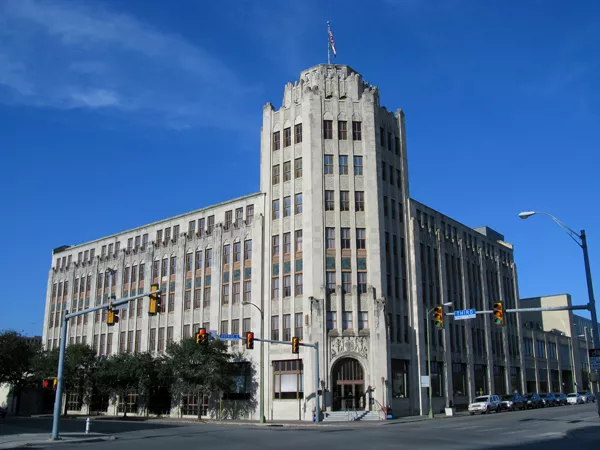 Courtesy
The San Antonio Express-News building houses the paper's newsroom, printing operations and support staff.
Hearst Corp., the owner of the
San Antonio Express-News
, cut deeper into the daily's newsroom, laying off 14 seasoned journalists last week, according to people familiar with the job cuts.
The layoffs follow the departure of Editor-in-Chief Mike Leary, who retired two weeks ago, and Managing Editor Jamie Stockwell, who recently was hired as the New York Times' deputy national editor.
Attempts to contact
Express-News
Publisher Susan Lynch Pape were unsuccessful. So were attempts to reach Vernon Loeb, the paper›s interim editorial chief and current managing editor of the
Houston Chronicle
, Hearst's largest Texas newspaper holding.
The job cuts aren't the first at the
Express-News
and certainly are in character with the deep cuts at daily papers around the country, which have suffered as readers and ad dollars flee to online sources. The
Express-News
' biggest bloodletting came in 2009, when it slashed 75 positions, or about a third of the newsroom. At least one smaller cut followed.
While several
Express-News
employees said to be caught in the layoff declined comment to the Current, some have taken to social media to discuss the cuts.
Longtime reporter Zeke MacCormack tweeted that he and "several other" longtime
Express-News
employees had been laid off and thanked his readers and sources.
Folks, I was laid off today, along with several other longtime Express-News employees. Thanks to all the sources who helped me report the news, and to readers. Also, sorry for the errors that made it into print despite our best efforts. Good luck, zeke

— Zeke MacCormack (@ZekeMac) May 24, 2018
Texas Tribune
CEO Evan Smith tweeted praise to veteran
Express-News
Austin Bureau Chief Peggy Fikac, who he said is "part of the involuntary exodus" from the paper.
If you've been around the Texas Capitol for any period of time, you can't help but know and admire Peggy — one of the best reporters to cover politics and policy over the last several decades 2/x

— Evan Smith (@evanasmith) May 24, 2018
High school sports reporter Adam Zuvanich also took to Twitter to announce his departure.
I've got some bad news to report, at least from my perspective. I was laid off today by the @ExpressNews. I enjoyed telling stories about San Antonio high school sports. Thanks to everyone who helped me do that.

— Adam Zuvanich (@AZuvanich) May 24, 2018
"Ok, so for the second time I've been laid off from the Expre-News [sic]," editorial assistant Mary Heidebrink posted on Facebook. "Anyone know of someone hiring an obit writer? Seriously, any and all networking help is appreciated."
There's long been industry (and newsroom) speculation that Hearst, which owns a couple dozen daily papers, would look for ways to consolidate its Texas operations, especially the
Express-News
and
Chronicle.
In March, E-N publisher Pape emailed employees to let them know that
Houston Chronicle
Editor-in-Chief Nancy Barnes would oversee editorial for all of Hearst's Texas newspaper properties and
Express-News
Executive Digital Media Producer Cory Heikkila would oversee web content from a post in Houston.
And with Loeb's recent arrival in the Alamo City as interim editor, the Houston connection has grown even stronger.
In a January letter to employees, Hearst CEO Steven R. Swartz painted a relatively rosy picture of the privately-held company's performance. If it hadn't been for Hurricane Harvey's impact on the Houston and Beaumont papers, Hearst Newspapers would have recorded its sixth straight year of profit gains, he wrote.
The thinning of the San Antonio ranks grabbed the attention of former Mayor and Secretary of Housing and Urban Development Julián Castro, who tweeted his disgust.
So today the penny pinchers at @Hearst corporation gutted the San Antonio @ExpressNews newsroom, basically turning it into the SA bureau of the @HoustonChron . Consolidation. This despite record profits at @Hearst. Terrible for the local community.

— Julián Castro (@JulianCastro) May 24, 2018
Loeb responded to Castro, tweeting that the cuts, while difficult, "didn't gut the newsroom." But Castro wanted more proof.
Loeb's response to that call for transparency was anything but.
Thanks, Vernon. How many people got laid off today? And what percentage of the newsroom do they constitute? Also, which positions will now be consolidated to Houston? Some basic transparency is the only way to back up your claim.

— Julián Castro (@JulianCastro) May 24, 2018
And call the Express-News a bureau of the Chronicle is just wrong. Watch us work together!

— Vernon Loeb (@LoebVernon) May 24, 2018
Whatever Heart's ultimate corporate strategy for the layoffs, they come as a surprise, since many news organizations have adapted to running with leaner operations, said Robert Huesca, a Trinity University communications professor.
"It seems like a lot of jobs to be eliminating," he said. "I thought that newspaper staff sizes might have stabilized at this point, but it's disappointing to see that the fiscal issues continue."
For the paper's staff, especially those who endured the 2009 massacre, the cuts have evoked a devastatingly familiar sensation.
"People are in shell shock," said a person familiar with the current environment in the
Express-News
newsroom. "It's like, 'Oh, no. Not again.'"
Stay on top of San Antonio news and views. Sign up for our Weekly Headlines Newsletter.