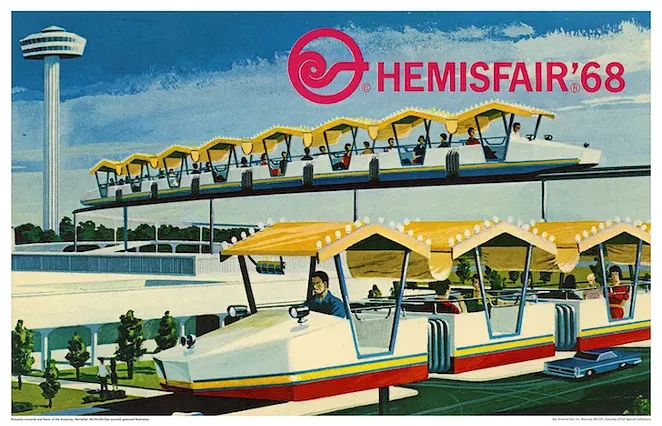 For many of us, Hemisfair is not a memorable event but a place — an urban park with a newfangled playground and such storied structures as the Tower of the Americas. But for locals of a certain age, still-evolving Hemisfair Park is tied to memories of the 1968 World's Fair, which brought 33 exhibiting "nations" (from Japan and Switzerland to Texas and Arkansas) and a host of corporations (IBM, Eastman Kodak, Coca-Cola and Pearl Brewing Company among them) to the Alamo City for a six-month extravaganza following a theme of "Confluence of Civilizations in the Americas."
A good percentage of these old-schoolers will also recall a darker side of fair that involved the city employing eminent domain to snap up a church and 19th-century homes, many of which were destroyed to make way for pavilions and the 750-foot tower. Speaking to the
Current
earlier this year, Hemisfair Communications Manager Drew Hicks explained that "there were literally people that had to be dragged out of their homes … It's a story that our city, collectively, we've not been super comfortable talking about, and as we've gone through the development of Hemisfair, I think that it's critical that we tell the story of that time."
While the specific focus remains to be seen, the McNay's upcoming panel discussion "HemisFair '68 Reunion" will likely go beyond fan favorites — like the mini-monorail, sky rides, Los Voladores de Papantla (who "flew" down a 135-foot pole with ropes tied to their ankles) and Canadian nutjobs Sid and Marty Krofft's adults-only musical puppet show Les Poupées de Paris — to shed expert light on more serious fare.
Organized in observance of the fair's 50th anniversary, the conversation promises insights from moderator Sherry Kafka Wagner (a writer and urban planner who donated her covetable book collection to the library at Hotel Emma) and panelists George Cisneros (co-founder/music and media director of URBAN-15), Richard Rosen (founder of the Magik Theatre, which is housed in a former concert hall that got transformed into the Laterna Magika for HemisFair '68) and Lonn Taylor (a writer, curator and historian who worked for the Smithsonian Institution's National Museum of American History for 20 years).
Free, Thu July 19, 6:30-7:30pm, McNay Art Museum, 6000 N. New Braunfels Ave., (210) 824-5368, mcnayart.org.

Get our top picks for the best events in San Antonio every Thursday morning. Sign up for our Events Newsletter.