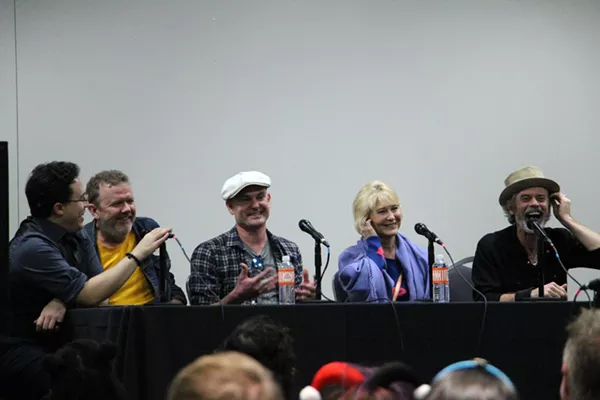 Kelly Merka Nelson
Moderator Moisés Chiullán and the E.T. cast share a laugh during Saturday's panel
E.T.
cast members Henry Thomas (Elliott), Robert McNaughton (Michael), C. Thomas Howell (Tyler), and Dee Wallace (Mary) reunited once again for an appearance at Alamo City Comic Con this weekend. Their Saturday afternoon panel convened with a jovial, familial atmosphere representative of a bond fostered by the many interviews, events, and conventions that the costars have done together over the past several decades.
Admittedly, two family members were missing – Drew Barrymore (Gertie) and, of course, E.T. The group was all smiles regarding Barrymore, who apparently "ran the set" when they filmed the movie, despite being unable to read. Similarly, all present agreed that the film's eponymous alien was a truly magnetic presence both on and off camera, because, according to McNaughton, the puppeteers would "bring [E.T.] to life in between takes," which young Barrymore was particularly taken with. Wallace added that they would often find Barrymore speaking to E.T. while the cameras weren't rolling.
Yet, while all the actors had a good relationship with the E.T. on set, they bemoaned that in the intervening decades the alien has neglected to keep in touch. E.T. "doesn't call, doesn't write…won't show up for the panels," Thomas joked.
You'd think that an alien life form who dedicated an entire visit to our planet to figuring out our telecommunication technology would pick up the phone every once in a while, but that seems to be low on E.T.'s priorities.
Thomas's appearance at ACCC is a homecoming for the actor, who was born in Santa Rosa Hospital downtown (now the Children's Hospital of San Antonio). He threw out a few Texas-centric tidbits, including a quick reference to pre-H-E-B. grocery behemoth Handy Andy and a two-handed Hook 'em Horns, which was immediately misidentified by his costars. "This is too much rock and roll for one panel," teased Howell.
McNaughton added that "one of [Thomas's] favorite things to do on the set was tell me Aggie jokes," which probably didn't land particularly well with the New York native. "That was my only social edge at the time," Thomas remarked.
Of course, it would've been remiss of moderator Moisés Chiullán to sit next to Thomas without asking him about his latest, critically-acclaimed project, Netflix's series adaptation of Shirley Jackson's
The Haunting of Hill House
, which was released on the streaming platform earlier this month.
After wryly confessing that director Mike Flanagan is "the only person that's hiring me now" – he also had roles in Flanagan's films
Ouija: Origin of Evil
and
Gerald's Game
– Thomas said that what ultimately won him over to this new iteration of the story, which boasts two prior film adaptations, was that Flanagan told him that "they think we're doing a series, but we're actually doing a ten hour film."
Thomas is proud of one episode of
The Haunting of Hill House
in particular – episode six, "Two Storms."
(Mild spoilers ahead!)
The episode "only has four cuts in it, and it's comprised of four basically twenty-minute parts that are continuous takes," he said. Pulling it off involved extremely complex choreography both for the cast, who give taut, emotionally charged performances, and the crew, who had to negotiate and execute some seriously spooky cues.
On the process, Thomas said: "We had to rehearse it like a play for a month, basically…but [the studio] was like, 'This is crazy – you can't do that. Can't you just shoot it traditionally?' So, they wouldn't pay us for rehearsals. So we came in on the weekends and we rehearsed it, and the entire crew was involved. And, you know, you get through with something like that, and you go: wow! We just did a hat trick."
Hankering for more deets on "Two Storms"? Check out this spoileriffic featurette from Netflix for an in-depth look at the making of the episode:
Stay on top of San Antonio news and views. Sign up for our Weekly Headlines Newsletter.