Evidenced by multiple recent events themed after iconic Mexican illustrator José Guadalupe Posada's beloved character la Calavera Catrina, many San Antonians couldn't wait for Día de los Muertos to get dolled up as the grande dame of death. Expect to see plenty more Catrinas roaming around as venues and organizations across the city observe All Saints' Day (November 1) and All Souls' Day (November 2) with celebrations honoring the dearly departed with creative and heartfelt altars (ofrendas), performances, processions, readings and traditional hallmarks like pan de muerto, sugar skulls and marigolds.
Wed 11/1
Día de los Muertos Community Celebration at Esperanza Peace and Justice Center
Venturing off-site to its outpost in the heart of the Westside, the Esperanza Peace and Justice Center invites community members to celebrate "dearly departed familia, friends and ancestors" with a neighborhood procession, displays of community altars, readings of literary ofrendas, face painting, items for purchase from artisans and Cooperativa MujerArtes members, and live music from El Tallercito de Son, Conjunto Heritage Taller, Las Tesoros de San Antonio, Azul Barrientos, Grupo Tayer and Los Texmaniacs with Flaco Jimenez (
free but donations appreciated, 4-10:30pm Wed, Rinconcito de Esperanza, 816 S. Colorado St., (210) 228-0201, esperanzacenter.org
). — Bryan Rindfuss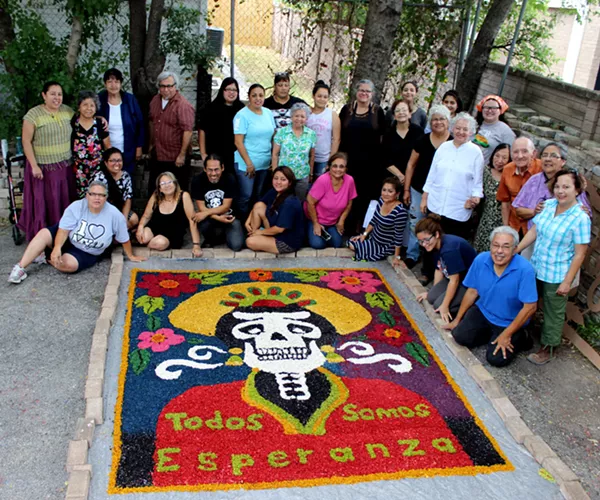 Courtesy of Esperanza Peace and Justice Center
Wed 11/1 - Thu 11/2
Día de los Muertos at Pearl Park
Joining the festivities for the first time, the Pearl decks out its campus for a two-day celebration that includes a collaborative community altar (feel free to bring a photo of a lost loved one), artist-made altars, a sugar skull workshop, presentations by inaugural San Antonio Poet Laureate Carmen Tafolla and artist Bertha Sandoval (aka La Catrina Mexicana) on Wednesday; and a formal procession, complimentary paletas and live music by all-female mariachi troupe Las Coronelas and bilingual roots rocker Patricia Vonne on Thursday (
free, 4-7pm Wed, 5-9pm Thu, Pearl, 303 Pearl Pkwy., (210) 212-7260, atpearl.com
). — BR
Thu 11/2
San Anto Cultural Arts Presents Día de los Muertos Workshops
Following a procession to The Wall of Remembrance mural to add the name of a community member lost to violence, the Westside nonprofit San Anto Cultural Arts' annual offering takes shape as a Día de los Muertos "fandango" with music, dancing, face painting, food and art workshops (
free, 6-9pm Thu, San Anto Cultural Arts, 2120 El Paso St., (210) 226-7466, sananto.org
). — BR
Thu 11/2
Mexican Cultural Institute
Taking a reverent approach with individual ofrendas honoring three Mexican icons (writer/photographer Juan Rulfo, ballet choreographer Amalia Hernández and artist José Luis Cuevas) as well as the victims of Hurricane Harvey and the recent earthquakes in Mexico, the Mexican Cultural Institute hosts a reception complete with tamales, pan de muerto and hot chocolate (
free, 5-9:30pm Thu, Mexican Cultural Institute, 600 Hemisfair Plaza Way, (210) 227-0123, icm2.sre.gob.mx/culturamexsa
). — BR
Thu 11/2
Centro Cultural Aztlan
Proudly one of the Alamo City's "biggest and oldest" Día de los Muertos happenings, Centro Cultural Aztlan's 40th annual celebration tops off the nonprofit's community-driven group show "Altares y Ofrendas" with pan de muerto and ponche de frutas, a Catrina-inspired runway presentation featuring fashions from designer Henry de Leon and body painting by Oscar Galvan and Beyond the Canvas, an "Avenida de los Artesanos" with handcrafted wares for purchase, and a performance by URBAN-15's skeleton-faced drum and dance troupe Carnaval de los Muertos (
$3 suggested donation, 6-9pm Thu, Centro Cultural Aztlan, 1800 Fredericksburg Road, Suite 103, (210) 432-1896, centroaztlan.org
). — BR
Thu 11/2
Fireworks at Woodlawn Lake Park by Planet K
Capping things off with a big bang, Planet K takes over Woodlawn Lake Park with a fireworks spectacular preceded by a car parade, face painting and a memorial balloon release (
free, 5-8:30pm Thu, Woodlawn Lake Park, 1103 Cincinnati Ave., planetktexas.com
). — BR
Thu 11/2 - Sat 11/4
Muertitos Fest
For its 11th annual Muertitos Fest, a culturally relevant celebration of art, life, and death, the staff and students of SAY Sí will be presenting three days of activities/displays including "student art, altars to honor the departed, family folk art workshops, food booths, an artisan mercado as well as live cultural performances highlighting local dancers, musicians and entertainers." This year's fest, which takes the Mexican Revolution as its theme, will also include the revealing of two large-scale sculptures created over the summer in collaboration with Colectivo Ultima Hora, a talented team of artists from Mexico City. Proceeds from the opening night of Muertitos Fest, the only day for which there's a cover charge, will benefit SAY Sí's efforts to foster students' "artistic and social skills in preparation for higher educational advancement and professional careers." Aside from all the student performers and artists, the fest will also features musical performances from talented local acts Chisme, Grupo Frackaso and Chulita Vinyl Club.
Free (opening night $35-$40), 7:00pm-10:30pm Thu, 6-10pm Fri, 10am-4pm Sat, SAY Sí, 1518 S. Alamo St., (210) 212-8666, saysi.org.
— James Courtney