I'm not one to extoll the virtues of vegan eats very often (though I do enjoy the eateries in town), but bear with me.
Pharm Table
, chef Elizabeth's food delivery concept in which she and a small staff prepare vegan-/dairy-/sugar-free foods, now has a pop up location,
Pharm Table Cafe
, already in its second month of lunch service at the Radius Center (106 Auditorium Circle, Suite 125). And the food is fuckin' tasty.
Jessica Elizarraras
My lunch this afternoon.
I wouldn't normally curse (yes, I would), but when a "vermicelli" bowl of sprouted lentil, mung bean, squash ribbons, carrots and Asian dressing knocks your socks off with its peanut-y sauce and variety of textures, well, you tend to let out a few expletives. Dammit.
Though dishes are vegan, Johnson knows this is South Texas and some of us can't pass on the meat, so grass-fed, free-range proteins are available at an extra charge.
The lunchtime "Locally Sourced | Globally Inspired" fare is introducing plenty of new ingredients, herbs, spices and dishes made with said accoutrements, but is definitely worth venturing out for. The cafe, which seats about 60, has plans to open for Friday night dinners in advance of Tobin performances.
The menu changes weekly, and is usually largest on Fridays after Johnson and co. drop off meal plan deliveries. Last week's menu included an Asian skirt steak salad, quinoa tamal plate, a loroco bowl (with roasted sweet potatoes, wilted sweet potato greens, flowering cheese vine in cashew cream, and a red bell pepper carrot slaw), Persian gyro plate, and winter squash soup. Prices vary between $5 for soup, $9 for bowls, $10 for salads and $12 for small plates. Desserts (including an horchata chia pudding) came in at $4.
You too can eat a bunch of great-tasting veggies at Pharm Table Cafe from 11 a.m. to 2 p.m. Tuesday through Friday.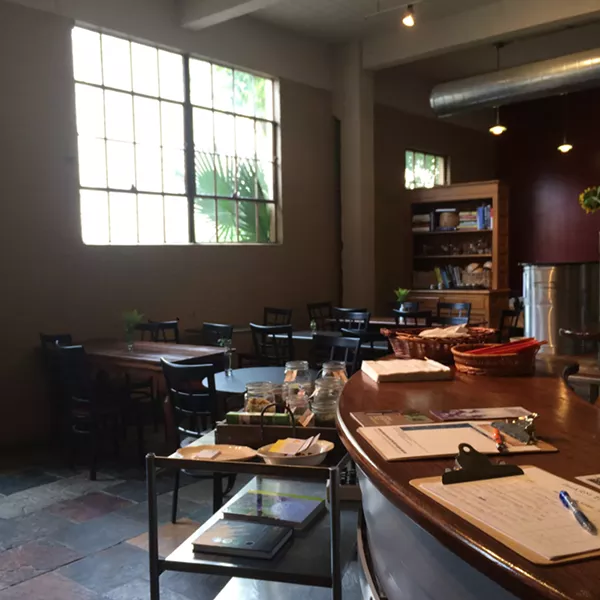 Jessica Elizarraras
The inside of the cafe.