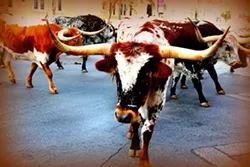 I always thought the rodeo was just another fun thing to do in San Antonio. Recently I met a Rodeo Ambassador and found out the rodeo is about so much more than entertainment. The folks over at The San Antonio Livestock Exposition, Inc. are doing some awesome things in Texas. Their mission statement says it all: "A volunteer organization that emphasizes agriculture and education to develop the youth of Texas."
Even their history is pretty interesting:
In 1854 one of the first ever Texas Agricultural Fairs was held in San Antonio.

As the years went on, many other fairs and expositions came to San Antonio and dealt with inadequate facilities to accommodate their needs.

In the early 1940s Joe Freeman began assembling volunteers and a movement began to construct a multi-purpose coliseum.

Construction began in January of 1948.

In September 1948, the Joe and Harry Freeman Coliseum opened to the public.

On February 17, 1950, the first San Antonio Stock Show & Rodeo was born with a record-breaking quarter of a million visitors!

In 1984, the SALE Scholarship Fund awarded 15, four-year scholarships totaling $90,000 to students entering Texas colleges in the fall of 1984.

In 2003 the Rodeo and Concert Series was moved to the SBC Center (now known as the AT&T Center). The Freeman Coliseum became the home to hundreds of commercial vendors providing the perfect venue for rodeo patrons ready to shop.
I love the history but the really exciting part is what they are doing for Texas youth and education:
Over 4,600 Texas college students have benefited from the Scholarship Fund.

Currently, there are 70 Texas counties that are represented by active students in the program.

To date, the San Antonio Stock Show & Rodeo educational commitment exceeds $105 million.

$8.5 million was committed for 2010 in the form of scholarships, grants, endowments, auctions, a calf scramble program and show premiums paid to youth.

Currently, there are more than 1,300 active scholarship recipients. Scholarships are represented by students in 90 colleges and universities throughout Texas.

Support has been provided for continuing career education for Extension Specialists through the highly successful SALE Leadership Extension Programs.

Texas colleges and universities have been supported with direct grants to various agriculturally related programs.

SALE is involved in youth development and curriculum programs through the 4-H, FFA and by direct contact with specific schools.
Over  5,000 dedicated volunteers along with a group of sponsors, work together to ensure the success of these educational programs and the Rodeo event itself. To them I say "Rock ON!"
Oh – I almost forgot! They also organize the annual cattle drive through the streets of downtown which we attended last Saturday.
Bradyn gave it a HUGE thumbs up!
The Rodeo runs from February 3 – 20. Visit the 2011 San Antonio Stock Show & Rodeo website for more info.
Posted by Ferg_e - a mom on a mission. If you want to read more about me, check out my blog where I write about social causes, epilepsy awareness and our personal journey from chaos to calm in the middle of epilepsy, divorce and life.