Raul Gonzalez, Feelin Like A Champ and Interwoven Landscape
With a powerful trio of exhibitions already on view, Artpace gives us two more reasons to visit this spring with the unveiling of new projects by San Antonio-based artists Daniel Rios Rodriguez and Raul Gonzalez. Although Rodriguez and Gonzalez explore wildly different topics and themes, their bright and bold bodies of work find common ground in playful energy, DIY aesthetics and transformations of commonplace materials.
Raul Gonzalez photographed by June Gonzalez
A Houston transplant who earned an MFA from UTSA along with grants from the Sustainable Arts Foundation, the Surdna Foundation and the National Association of Latino Arts and Cultures (NALAC), Gonzalez has long been fixated on the concept of work in many forms — construction, manual labor and his dual roles as a "werking artist" and undeniably cool stay-at-home dad. He's captured the everyday joys of fatherhood in figurative drawings, celebrated his love for Whataburger and the Houston Astros in paintings and installations, enhanced his exhibitions with energetic, movement-based performances and even danced for 4.3 miles — continuously from downtown to the McNay. With a title lifted from a song by bygone Texas hip-hop duo UGK, his "Front and Back, and Side to Side" promises to transform Artpace's Main Space windows with a "multi-dimensional mural" rendered in cardboard and colored duct tape. (Cue the selfies.)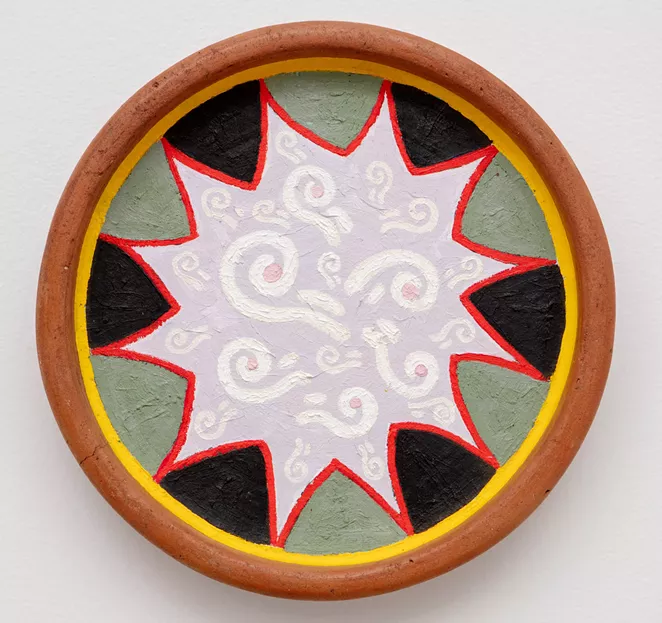 Daniel Rios Rodriguez, Terco
A native of Killeen who earned his MFA from Yale and has exhibited in New York, Chicago, Marfa, Ireland and beyond, Rodriguez takes a tactile approach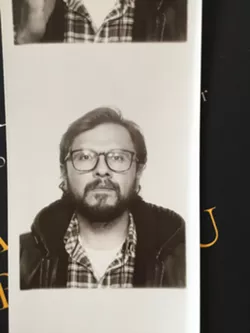 to small-scale "semi-figurative" paintings inspired by personal experiences and the natural world. Frequently using oddly shaped, homemade panels, he paints scenes and patterns in thick, textural layers, adding organic-looking embellishments such as stones, shells and feathers, and finishing the pieces with earthy frames rendered in found bits of wood, rope, wire and hardware accents. Bringing to mind everything from cave drawings and tribal symbology to folk and outsider art, Rodriguez's work comes to light in "Bruisers," his first ever solo show in Texas. Nodding to battle scars we collect as we navigate life on Earth, the exhibition title also speaks to the surfaces of his paintings, many of which he says "undergo a lot of heavy hitting and burning and throwing across the floor."
During the opening reception on May 16, both artists will give short talks about their work and Artpace will be rolling out a new Third Thursdays series that kicks off with a rooftop screening of shorts curated by the San Antonio Film Festival (
$5-$10, 8pm Thu, May 16
).
Free, opening reception 6-8pm Thu, May 16, on view 10am-5pm Mon-Fri, noon-5pm through August 18, Artpace, 445 N. Main Ave., (210) 212-4900, artpace.org.

Get our top picks for the best events in San Antonio every Thursday morning. Sign up for our Events Newsletter.