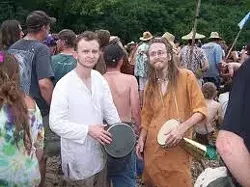 In what is being hailed as an unprecedented historical event ... a group of hippies have finally been able to accomplish something. "It's an amazing feeling! We've struggled so hard to have an effect on civilization, it's just nice to know we've finally made a meaningful impact." says Petal Lips, Hippie, and self described Dream Weaver. For 50 years the Hippie movement has been the 'Chicago Cubs' of social change, never quite making any actual substantial progress beyond ruining California and Jazz music. That all changed last week when the L'Oreal Group decided to stop testing their new line of Maybelline cosmetics on animals. Attributing their decision based on the movement's effective use of the Drum Circle.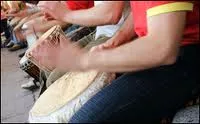 "For years we were able to ignore the beat, but it just became too much," says one L'Oreal spokesman. In a press release by the group yesterday they explained, "Drum circles started forming at every corporate office we had. Hippies were constantly pounding their congas without any sense of rhythm whatsoever. It was torture, pure and simple. We felt like the Branch Davidians without all the polygamy." The company had further setbacks as undercover Hippies began gaining employment in key areas of management. Hacky sacks and Frisbees started appearing out of nowhere, disrupting and effectively slowing production. "We exhausted every method we could to uncover the peace spies, but they just kept bathing." Tension between the two factions grew to epic proportions as the L'Oreal Group enlisted their own Drum Circle hosted by Questlove, drummer for Hip Hop pioneers The Roots, but those plans were immediately dropped due to his association with Jimmy Fallon.
The two sides were finally able to open dialogue after a recent Supreme Court ruling declared that "Hippies aren't actually Human Beings." In reaction, the L'Oreal Group was able to propose a simple solution: the company would no longer perform tests on animals so long as they could perform those tests on Hippies instead. "Hippie DNA is surprisingly close to Human DNA," explains noted chemist Dr. Alvin Reed. "You'd be surprised how similar they are as well as how resilient Hippies can be to numerous and excessive chemical testing." "It's a great solution!" agrees Petal Lips. "In exchange for saving animals, we get all the chemicals we want plus cookies! The only thing they ask is that we stop playing the drums." "A win-win for sure," commented one L'Oreal employee. "We would have gladly tested on Hippies years ago, but never once thought to ask. I guess we just assumed that self-involved middle-class white people, while highly vocal, were just too hypocritical to actually stand for what they believed in. "
Inspired by their win, a select group of remaining Hippies took their Drums and Shakers to Israel in an attempt to bring peace to the Middle East. There were no survivors.