Korean Wings and a Hot Joy Daquiri
Name:
Hot Joy
Background:
Part of the Empty Stomach group, Hot Joy opened in Southtown off of S. Alamo after launching as a pop-up inside The Monterey. The restaurant-bar concept is about to celebrate their fourth anniversary this weekend, where they will bring back food and drink favorites.
Happy Hour:
The happy hour deals at Hot Joy are insane. There are four different cocktails that patrons can choose from all priced at $4. You can also enjoy a glass of wine for $3 or beer called the Montucky "cold snack" for $2. If you're hungry, the bar offers steamed buns for $1 apiece, in addition to their full food menu (no discount on menu items, though). Don't forget about Wing Wednesdays, when you can get a bowl of wings for $6.
Patrons:
The guests that venture into Hot Joy seem to vary. Like most of Southtown, there are locals to the neighborhood that stop by for a quick bite to eat before heading home. Then there a few industry folk that come in for a quick shot and a bun before heading off to their shift at a neighboring establishment. On Wednesdays the crowd during happy hour is a more robust, inviting individuals and couples that are looking to score half-off wings.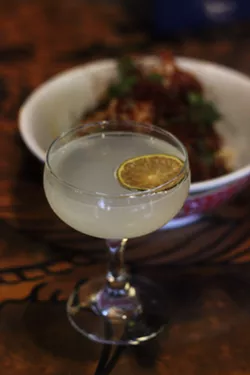 Experience:
I happened to walk into Hot Joy on a Wednesday, not recalling that this was the day wings were at a discount price, and I was happily surprised. I took a seat at the bar and glanced over the happy hour menu. The cocktails that were offered during the discounted hours seemed to be on the sweeter side, following the tiki theme that Hot Joy has always sported. You can choose from a Caribbean mule, bourbon cooler, a Locals Only, or a Hot Joy daiquiri. I went with the daiquiri, which can be ordered as an original lime flavor, a strawberry, or a passion fruit variety. The drink was solid and $4 the price cannot be beat. I was glad to have visited on wing Wednesday as I ordered both the chicken and the tofu steam buns, and was pretty disappointed in their taste. The tofu bun was flavorless and dry, while the chicken was drenched in a miso honey butter to the point it was all you tasted. The wings, however, were great, and they offered the three menu varieties as well as the special of the day. To recap, visit Hot Joy for a cheap drink during happy hour or for the specials like Wing Wednesday and Ramen Mondays — skip it though if you are craving steam buns.
Erin Winch writes about boozin' in the Alamo City on her blog Drinking In SA. Follow her on Instagram at @drinking.in.sa for more.