While Republican House Speaker John Boehner (R-Ohio) visited San Antonio today to speak before a roomful of business and professional groups at a chamber of commerce-hosted luncheon, dozens of local community members rallied outside the Marriott Rivercenter calling on Boehner to get comprehensive immigration reform on track.
Speaker John Boehner talks immigration reform in San Antonio. Photo by Jonathan Alonzo via KGBTX.
Inside, Boehner answered questions from Texas Tribune Editor-in-Chief Evan Smith (and from the audience) about the newly formed special committee to investigate the attacks in Benghazi, Libya, as well as veteran's affairs, the Affordable Care Act and, as anticipated, immigration.
Last month, Boehner saw backlash for chiding his Republican colleagues for their unwillingness to work toward a solution for immigration reform. Mocking their reluctance, he said, "'Ohh don't make me do this, ohh this is too hard.'" Feeling the heat from colleagues, Boehner soon backpedaled, steering the blame toward President Obama's leadership. The "biggest impediment" we have in moving immigration reform forward is that the American people don't "trust the president to enforce or implement the law," he said. Boehner reiterated his position at today's event.
"I put the ball back in the president's court," said Bohener. "He is going to have to do something to demonstrate some level of trustworthiness." (And regarding the imitation of his stubborn colleagues, Boehner said during the luncheon, "I can get a little carried away with my teasing.")
While the Senate passed a bi-partisan immigration reform bill last June, that includes border security and a pathway to citizenship for the estimated 11 million undocumented U.S. immigrants, it has yet to reach the floor of Congress for a vote—immigration reform advocates and Democrats are pressuring the speaker to see it through. However, Boehner expressed support for legislation broken up into five to six "chunks" (with border security as the first legislative portion) rather than a comprehensive package— an approach the San Antonio Hispanic Chamber of Commerce opposes, as Smith pointed out. "In order for immigration reform to be effective, a comprehensive plan must be addressed as a whole, because the system and its deficiencies are so interconnected," the Chamber wrote in a January 2014 white paper report.
Boehner also shot down criticisms that his seeming failure to get immigration reform rolling on the Congressional side is a purely political move, as he's up for reelection this November (although, he wouldn't verbally commit to serving out a full term if reelected). Meanwhile, murmurs of a conservative-led ousting of Boehner have begun, lending critics reason to challenge Boehner as acting extra cautious with controversial issues.
"This is not about politics, this is not about elections, it's about doing the right thing for the American people, it's about doing the right thing for this country," said Boehner.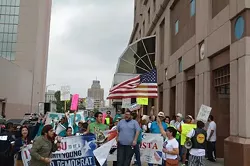 Immigration reform activists protest outside an event featuring Speaker John Boehner. Photo via Bexar County Young Tejano Democrats.
Outside the hotel, a coalition of immigration reform advocates gathered to protest the slow progress made at the federal level and to call on Boehner to bring the immigration bill to a vote. The Bexar County Young Tejano Democrats, the Brown Berets of San Antonio, Texas Young Democrats, local LULAC members, the Texas Organizing Project and the San Antonio Immigrant Youth Movement chanted and held up signs at the corner of E. Commerce and Bowie Street during the event.
"It's about time that Speaker Boehner shows leadership and gets the support of his party to pass immigration reform," Carlos de Leon, chairman of the Bexar County Young Tejano Democrats told the Current following the mid-morning protest. While the organization is nascent, its members have been part of the immigration reform struggle for years, says De Leon.
"We know there are Republicans supporting this legislation; we want Boehner and Republicans to show some courage and bring it up for a vote."
Victor San Miguel, a member of the local chapter of the Brown Berets, says by not allowing for a vote, Boehner is effectively stalling reform. "Boehner is at fault here, he comes down here for the Hispanic Chamber so that they could help him do some fundraising and to get Hispanic votes, but the Hispanic voter has to remember what he and other politicians have done for them."
De Leon says the groups succeeded in handing a letter to Boehner's staff with their concerns, one of which was the perceived disconnect within the GOP's platform.
"One of our greatest criticisms is that the Republican Party always talks about family values and yet they continue to remain idle," said De Leon. "How can you be in support of family values while you support policies that tear families apart?"