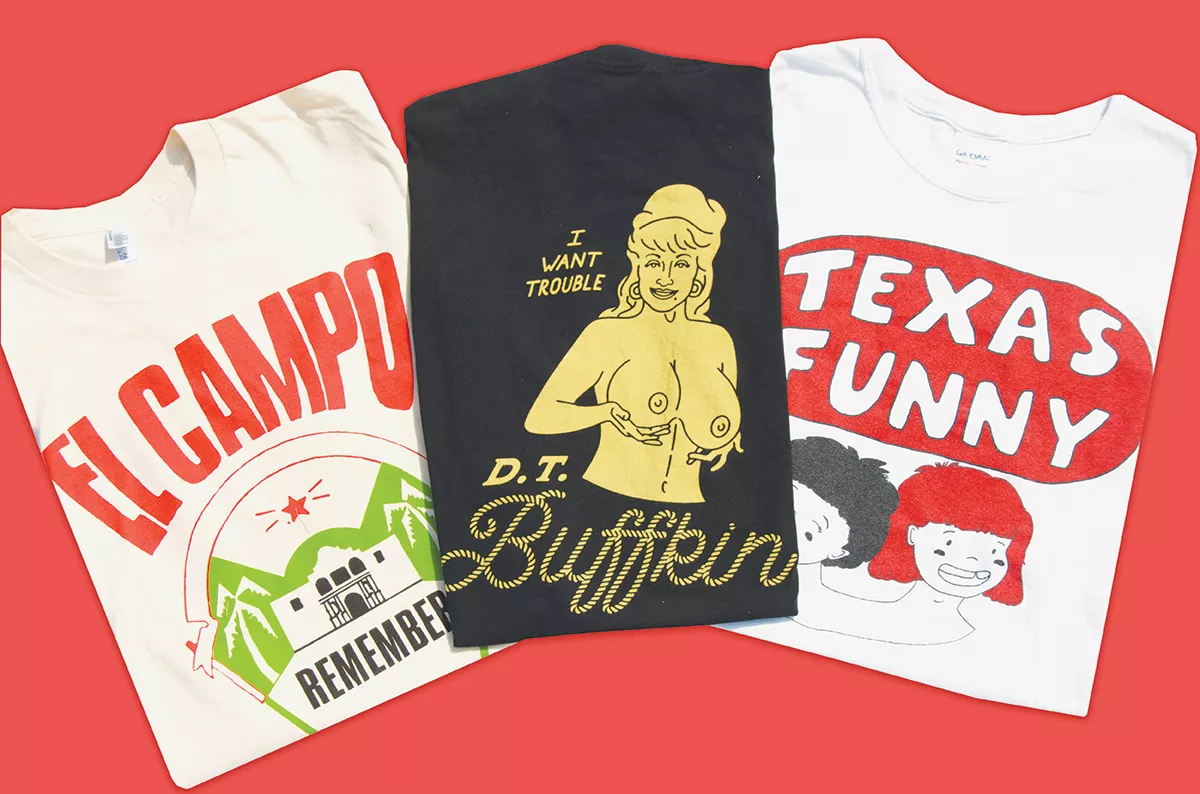 Matt Stieb
SA bands barely scraping a living turn to making and selling T-shirts for some gas money.
Sure, the aggregate pennies from Vevo and Spotify streams ensure that UMG, Rihanna and the big-wig labels are going to stay in their mansions. And the vinyl revival may ensure that Jack White or James Murphy — or some other white guy with a mainstream cool band — makes his money.
But for the working musician, still shackled to the day job, there are very few outlets for bands to get into the black, or, at least not to lose money off their creative ventures.
In an era where music sales no longer cut it as a viable revenue source, the T-shirt, that staple of the American wardrobe, can provide a business-minded musician with an opportunity to subsidize recording and touring costs.
First made popular by American sailors coming home from the Spanish-American War, the T-shirt grew over the 20th century to become a huge economic mover. It's hard to find updated figures for an industry with so many players, but, according to clothing industry website Impressions, to give you at least a rough idea, Americans spent about $40 billion on "decorated apparel" in 2008.
The simplest way to get a tee on the merch table is the screen-printed shirt. Offered by several companies in town, a silk screen works essentially as a stencil, pressing ink onto cloth so that only the desired image makes its way to the shirt.
The silkscreen rewards simplicity, with multi-colored shirts requiring more screens and ink. "So that's why you'll see a lot of band T-shirts that are one color, super simple drawings," said Mike Garcia, who silk-screens for Die Happy, a local music promoter.
Jerrid Morris, songwriter of Texas bluesmen El Campo, found that the band's Alamo-inspired tees helped get their album Remember pressed and packaged on vinyl.
T-shirt sales "worked way better than we thought it would," noted Morris. "I've always been a proponent of having a visually appealing shirt because it does well. We got this one — I forget how many we ordered — but we sold out really quickly. That was the bulk of the money that allowed us to put out the record."
Now that the album is out, El Campo is still able to make more dough off tees than their actual music.
"Maybe it's just a matter of feeling okay about selling a T-shirt for $20; especially if it's American Apparel, people will pay that," said Morris.
"It's easier to market them something tangible, even if they're not going to use it. It's just a giant poster."
D.T. Buffkin, a San Antonio Current contributor and leader of his self-titled Tin Pan-style band, graciously allowed us a peek into his band's finances. For his début album, Tattoed Rose, Buffkin pressed 300 records, the factory minimum.
"All told with shipping, with color labels and a single black and white insert, it ran about $2,300," he estimated. "Once you break all the math down, I think I worked it out to where each record cost me about $7.80. Selling them for $15, I'm still making almost 100 percent profit."
For the merch, Buffkin threw down $870 for 100 American Apparel shirts, breaking down to $8.70 each. Though the per-unit profit on the album was greater than the shirt, the vinyl cost does not account for the staggering amount of time invested in writing and recording, or the cost of recording and mastering, if you don't have the DIY infrastructure or wherewithal.
Buffkin also raises a good point about capital, a long shot for most musicians.
"The issue is to have the $2,300 in the first place is always difficult for musicians usually unless your mom is paying for it or something like that," he said. "The hardest part is having your money up front and then making it back slowly."
A level up, in the ecosystem of small labels, the T-shirt's imperative begins to change. Speaking with Texas Is Funny label head Scott Andreu, the T-shirt sale for a label that functions largely online is less important.
"We sell them a lot when we table somewhere for the label," said Andreu. "But it's not something we get a lot of online orders for, though we do get a lot of online orders for music. It's important to branding, but it hasn't been a thing we've put a lot of importance on."
But go another level up and the T-shirt regains its viability. Andreu explained the 360 label deal, common with large indie labels and most majors able to tap into economies of scale.
"If you're a label that does 360 deals, not only are you putting the money up front for the music, you're also putting money up front for all the merchandise, I could totally see it where T-shirts become an important thing," he said. "'Cause every time a band sells a T-shirt on the road, you're getting back the money that you spend plus profit."