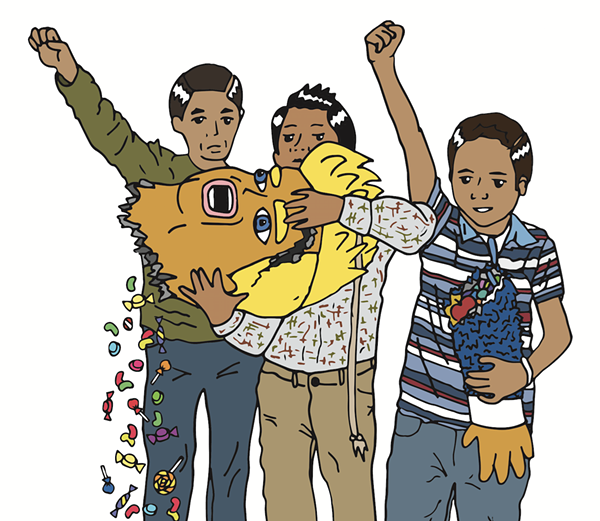 Last October, CineFestival director/curator Jim Mendiola was putting the finishing touches on the 2017 CineFestival schedule. He had it almost worked out and he was excited, and the country was finally ready to elect the first woman president. Then, on the night of November 8, the caca hit the ventilador.
"I'm trying to articulate this without mentioning names, because this is bigger than just one person winning the election," said Mendiola, who politely dismissed my suggestion of using terms like "Scumbag" or "Ill Douche" (as in Il Duce, get it?) to describe The Unnameable One. "But yeah, [his win] changed all my plans for CineFestival. It was like a wake-up call."
One of the shorts programmed came in handy: Sarah Clift's La Madre Buena (The Good Mother) tells the story of a mother struggling with whether or not to please her son on his birthday — he wanted a Trump piñata. "That man won't enter my house," she says. "It's just a piñata," says the father. No spoilers here, but what happens next turned out to be one of the great images of this year's CineFestival (hint: fat tanned guy with fake yellow hair on a scooter). The Good Mother screens along with an array of other Latino shorts at 4 p.m. on Saturday, February 25.But there is much more, especially in feature form, for the dawn of the alt-facts era was a sobering realization for Mendiola. Rather than getting upset or depressed, the new political reality re-energized him and made him remember why he does what he does: honoring the spirit of the pioneering Chicano filmmakers of the late '60s and early '70s.
"[The election] made me rethink Chicano cinema," said Mendiola. "It was a resistance cinema, cinema created by themselves because they weren't being represented, they were critiquing society and they were very political because, ultimately, all films are political. So [after Election Day] I said, 'Yes! I have to remember that when I program and curate.'"

Thus, Mendiola started organizing a festival similar in essence to previous editions — an eclectic selection of politically charged films, coupled with special workshops like the three-day Latino Screenwriting Project, a joint venture with the Sundance Institute meant to detect and develop new Latino talent (four screenwriters were selected this year; join the LSP's mailing list at latinoscreenwritingproject.com to find out when and how to submit an application next year).
This time, the schedule took an added urgency with even the "lighter" stuff having strong socio-political undertones, as teased on the festival's poster: a powerful nod to The Clash's 1979 album London Calling.
"That was the guiding principle of pretty much everything in the festival, which is looked [at] through the lens of resistance cinema," said Mendiola, who chose red and black as the predominant colors in the poster, representing everything from the United Farm Workers (UFW) to social movements in Latin America, most notably Nicaragua's Sandinistas. "We also liked the idea of The Clash's London Calling but done a little ambiguously; it's either someone destroying a camera or planting a camera in the ground and making movies."
Besides the movies highlighted on the pages that follow, we strongly recommend I Promise You Anarchy, which uses a terrific ensemble cast to tackle a variety of topics, mainly poverty, drugs and bisexuality. Think of a contemporary version of Luis Buñuel's Los Olvidados (1950) on skateboards (9 p.m. Friday, March 3).
The haunting and visually stunning Tempestad, the second film by Mexican/Salvadoran director Tatiana Huezo (2011's El Lugar Más Pequeño, Best Feature Documentary winner at the Ariel Awards, Mexico's equivalent to the Oscars), tells the story of two women victimized by Mexico's corrupt police, but this unconventional documentary has a poetic beauty that takes viewers to a place that would make Terrence Malick proud (2 p.m. Saturday, February 25).
As usual with CineFestival, young local filmmakers are included in the program via The Future Is Now: Youth Videos from San Antonio, which screens Monday, February 27 at 6 p.m., with an Awards Ceremony to follow (free admission).
On a lighter (but equally intoxicating) note, Marco Ortega's Brewed in the 210 documents the San Antonio beer scene, where brewers proudly share their "mission from God" to make sure you don't ever have to go thirsty again. I don't even drink beer, but I was quickly hooked by this well-executed, informative and entertaining doc about a passion shared by many San Antonians (8 p.m. Tuesday, February 28).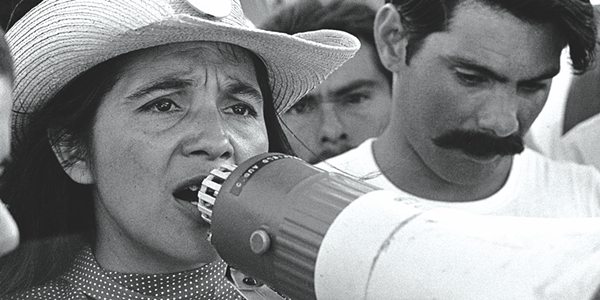 Fri 2.24
Opening Night: Dolores
Peter Bratt's first doc (after narrative features Follow Me Home and La Mission) attempts to set the record straight about UFW co-founder Dolores Huerta (still active at age 86), the beloved and controversial labor leader and civil rights activist often overshadowed by César Chávez's accomplishments and the UFW's own sexism after Chávez's passing. The film (executive produced by Carlos Santana) recently premiered at Sundance, where it earned a standing ovation. By all accounts, it's a powerful film and not a simple hagiography. Progressives were understandably upset with Huerta's decision to support Hillary Clinton instead of Bernie Sanders in last year's elections, and actress Rosario Dawson (who portrayed Huerta in 2014's César Chávez, directed by Diego Luna) called her out for it. Huerta replied that she thought Hillary would be better for Latinos and, "when the dust settles … we're going to be together." Although the dust hasn't exactly settled, anyone who keeps on fighting at age 86 — after almost losing her life to police brutality at age 58 — deserves a long line of credit among true progressives. This is the film to watch at this year's CineFestival. $15, 7pm, Guadalupe Theater, 1301 Guadalupe St., (210) 271-3151, cinefestival.org.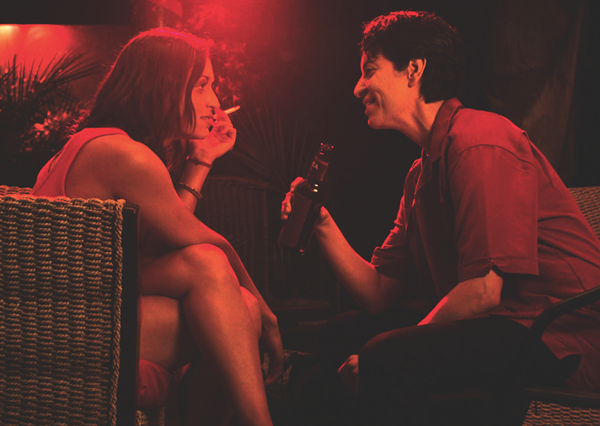 Bruising for Besons, Courtesy
Sat 2.25
Bruising for Besos
Hailing from SA's Southside and now living on the West Coast, accomplished queer artist Adelina Anthony wrote, starred in and directed this lesbian story about family, religion, love and, ultimately, friendship as a means of survival. The terrific, mostly QPOC cast members (as genuine as Anthony's own lethally intense eyes) carry a film that's equal parts steamy, violent and tender. $8, 8pm, Guadalupe Theater, 1301 Guadalupe St., (210) 271-3151, cinefestival.org.
Sun 2.26
Free Family Day: Anina
The Audience Award winner at the 2013 Buenos Aires International Festival of Independent Cinema is a Uruguayan-Colombian animated gem. It centers around a girl named Anina Yatay Salas, who hates the fact her name can be read both ways and is often made fun of as the chica capicúa (Palindrome Girl). All in all, it's an entertaining, funny and smart ode to imagination and finding your place in the world. Free, 1pm, Guadalupe Theater, 1301 Guadalupe St., (210) 271-3151, cinefestival.org.
Wed 3.1
Speaking Tongues
Directed by Kyzza Terrazas, Speaking Tongues offers a fascinating view of Mexico's underground hip-hop scene. Terrazas went all over the country to meet unsung resistance heroes, but perhaps the movie's greatest triumph is its capacity to actually listen (and read) what these rappers have to say. "To me, it's a movie about the power of language," Terrazas told Spain's El País. "From the very beginning I wanted to explore the graphic part of words, to turn it into a character." The 2016 documentary is another example of great things happening when local artists take foreign influences and transform them into something indigenous. $8, 6pm, Guadalupe Theater, 1301 Guadalupe St., (210) 271-3151, cinefestival.org.

Thu 3.2
Memories of a Penitent Heart
Woven together from home movies, video, documents, contemporary interviews and vérité footage, Memories of a Penitent Heart recounts the amazing story of Miguel Dieppa, a Puerto Rican actor who succumbed to AIDS in the early stages of the epidemic, his lover of 12 years (now a Franciscan monk), and Dieppa's family, all told by his niece, director Cecilia Aldarondo. The filmmaker-turned-detective herself is changed by the discoveries of familial secrets, and her movie turns into a funny yet heart-wrenching exploration of love, repentance, religion and forgiveness. $8, 7pm, Guadalupe Theater, 1301 Guadalupe St., (210) 271-3151, cinefestival.org.
Fri 3.3
Free Senior Screening: Nosotros los Pobres
The first in a trilogy, 1948's Nosotros los Pobres (We, the Poor) is one of the most beloved films in the Golden Age of Mexican Cinema (it was followed by You, the Rich and Pepe, the Bull.) Directed by Ismael Rodríguez, the film also provides a fine reminder of the legendary Pedro Infante, a superstar who, before his untimely death in a plane crash at age 39, excelled as a singer and actor with unbelievable range. The long association of Rodríguez and Infante would earn its ultimate international recognition when Infante won the Berlin Film Festival's Silver Bear for Best Actor for Tizoc (1957), also directed by Rodríguez. Infante died soon before the awards ceremony, so his family insisted Rodríguez keep the prize. Free, 10am, Guadalupe Theater, 1301 Guadalupe St., (210) 271-3151, cinefestival.org.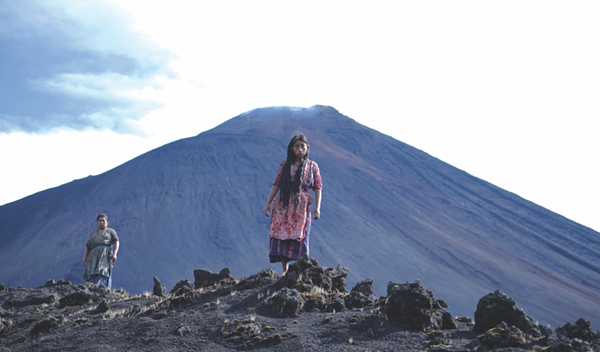 Ixcanul, Courtesy of Julie Romano
Fri 3.3
Ixcanul
Gorgeously shot, Ixcanul (Volcano) was Guatemala's entry into last year's Academy Awards. It's both a stunning debut by director Jayro Bustamante and a moving representation of the new generation of Central American filmmakers. A risky move, the film's use of the Kaqchikel Mayan language adds an unusual layer of depth to a narrative surrounding the arranged marriage of a teenage girl. $8, 7pm, Guadalupe Theater, 1301 Guadalupe St., (210) 271-3151, cinefestival.org.
Sat 3.4
500 Years
The ultimate resistencia film in this year's CineFestival, 500 Years is the third in a Pamela Yates trilogy that includes When the Mountains Tremble (1983) and Granito: How to Nail a Dictator (2011). It follows the genocide trial of former dictator General Efraín Ríos Montt and the citizens' uprising that ended the reign of President Otto Pérez Molina. In all of these events, the indigenous populations played a major role in the struggle. If you think you have it difficult now, watch this timely reminder that the most important struggle is the one that never ends. $8, 4pm, Guadalupe Theater, 1301 Guadalupe St., (210) 271-3151, cinefestival.org.
Sat 3.4
Closing Night: Best of Culture Clash TV Show (1993-96)

The
Culture Clash
TV show (30 episodes that aired on Fox), led by the namesake Chicano comedy troupe of Richard Montoya, Herbert Siguenza and Ric Salinas, was a hit-and-miss affair. But when they hit, they were right on the money. "They were talking about immigration, police brutality, all the issues that are relevant now," said festival curator Jim Mendiola. "I think that show was ahead of its time and wasn't really appreciated [then]. What we're doing is going back to the archives and putting together a 90-minute show with the best of
Culture Clash
. It'll be stuff that hasn't been seen in decades." Here's hoping the Chicano Surfers, White People's Court and Chicano Jeopardy made the cut.
$8, 8pm, Guadalupe Theater, 1301 Guadalupe St., (210) 271-3151, cinefestival.org.

CineFestival //
$8 per screening, $15 for Opening Night, $60 for a festival pass // Feb. 24-March 4 // Guadalupe Theater // 1301 Guadalupe St. //
(210) 271-3151 // cinefestival.org