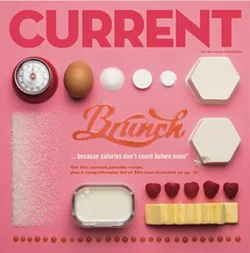 Considering the amount of positive feedback we've received on this week's cover, we thought we'd let you in on how the cover was made. On my end as food and nightlife editor, my sparse instructions for Art Director extraordinaire Eli Miller was one word: "Delicious." I think we can agree Eli totally delivered. The cover was actually created over a series of days. Last Tuesday, Eli sourced the bulk of the materials she used for the image–sugars, flours, eggs, berries, butters–
all used to create the Barbaro pancake
. She had previously spent several days sketching and working on a concept for the cover. Tuesday evening and most of Wednesday were devoted to finding the best way to present the materials and meticulously arranging them over and over... and over again. Oh, and writing out brunch in syrup (Mrs. Butterworth's in this case).
Our break room was pretty much off-limits.
On Thursday, Eli was joined by one of our most badass of freelance photographers,
Casey Howell
, to shoot several images. Here's some of the process: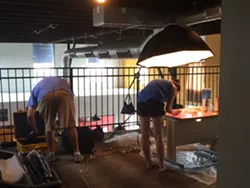 Yes, that's all the equipment required. In case you're wondering, syrup and molasses are viscous enough to paint with. Just a heads up.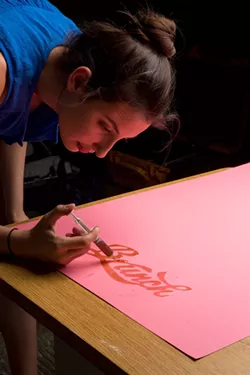 Eli injecting more syrup into brunch. (Casey Howell)
After shooting the images separately over the course of three hours, Eli designed a composite image which would become our cover. So there you have it.