Michelle Jimenez-Reyes, a single mother of two, is someone we can all learn from. She's part of the local community in a variety of ways. By day she's an award-winning massage therapist, and by night a skillful mixoligist serving crowds at the Mix Night Club. You can also find Michelle working on public school education reform as one of San Antonio's fiercest community organizers for the League for Public School Justice. A group she co-founded with other parents after the San Antonio Independent School District (SAISD) decided to close several public schools.
Michelle is a good friend of ours, and a contributing member to the work we do over at the Media Justice League (MJL). We follow her on Facebook, Twitter, and MySpace. On any given day, we can find her on Facebook religiously keeping us informed about happenings in San Antonio. She's definitely plugged in.
A few days after Christmas, December 27, we were on Facebook following up with friends when we stumbled upon your typical spat between a mother and her son. A bunch of us jumped into the social media battle between Michelle and her son Matt which went down like this: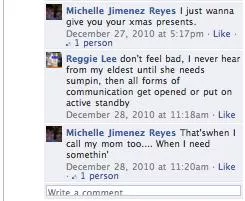 Sadly, a few days later on New Year's Day we received a painful plea for support from Michelle via a direct text message. Matthew "Matt" Shelton, her 21-year-old son had been in a serious motorcycle accident. She alerted our community, her family, and his friends through Facebook with this heartbreaking status update:
We have decided to leave the detailed comments of this Facebook status from Michelle private.
A couple of hours after this post we spent some time with Michelle while she waited for the evening hospital visiting hours to begin. In tears, she explained to me that she was scared of the idea of being tethered to a phone and computer when she needed to be with her son. Instead, she made a difficult decision that some people may disagree with and decided to overshare the news of Matt's tragedy through her social networks. This way the news would spread virally to everyone she wanted to reach. Within a few hours friends of Matt were gathering information to help Michelle, and members of her family had already began making plans to arrive in San Antonio to lend their support.
Our love and support is with you Michelle. We look forward to reading more funny status updates between you and Matt.